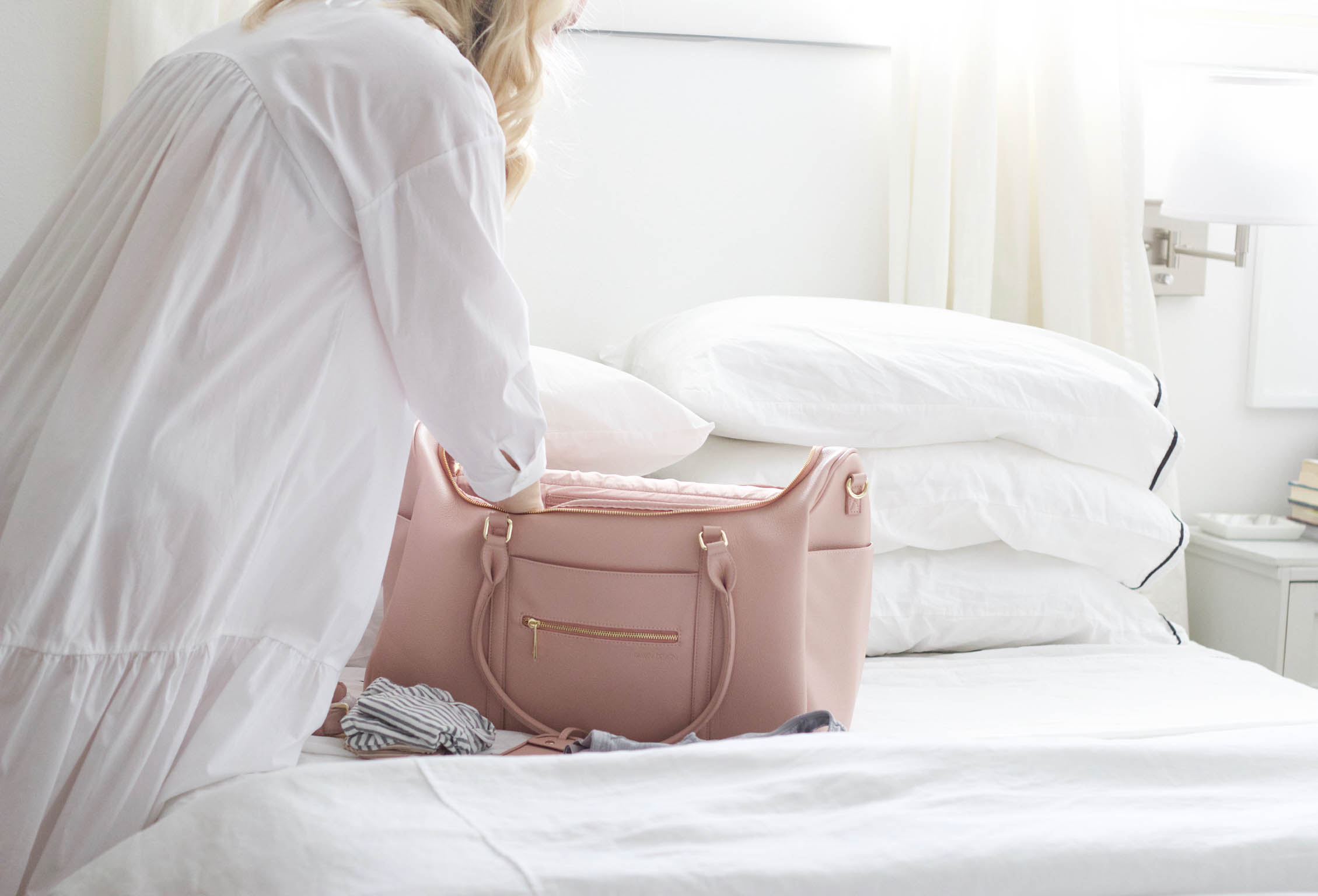 What to Pack in Your Hospital Bag: Second Baby
Compiling a hospital bag checklist is a great task to tackle in your third trimester, especially if you're feeling particularly anxious about your impending birth.
As a first-time mom, this hospital bag list is likely to run on the long side, including everything from LED candles to multiple changes of clothes for both you and baby. And while we agree that it never hurts to be prepared, you'll probably find you don't actually use half of what you tote with you to Labor and Delivery.
Anyway, talking about your hospital bag, it changes a bit once you've been through the whole birth song and dance. If you're a second time mom-or third or fourth-this might mean you pack a smaller bag with just the essentials or even pack two bags- a pared down version for the birth and a larger bag for your overnight stay.
If it's been a while since you've given birth, maybe you just need a little refresher about hospital bag must haves, since the chaos and joy of welcoming a new little one can tend to take over that spot in your memory.
So what exactly do you pack in your hospital bag for a second baby? We polled our Mini readers as well as our editors to find out the exact products that are worth carting to and from the birthing suite.
KEEP SCROLLING TO READ WHAT TO PACK IN YOUR HOSPITAL BAG FOR A SECOND BABY.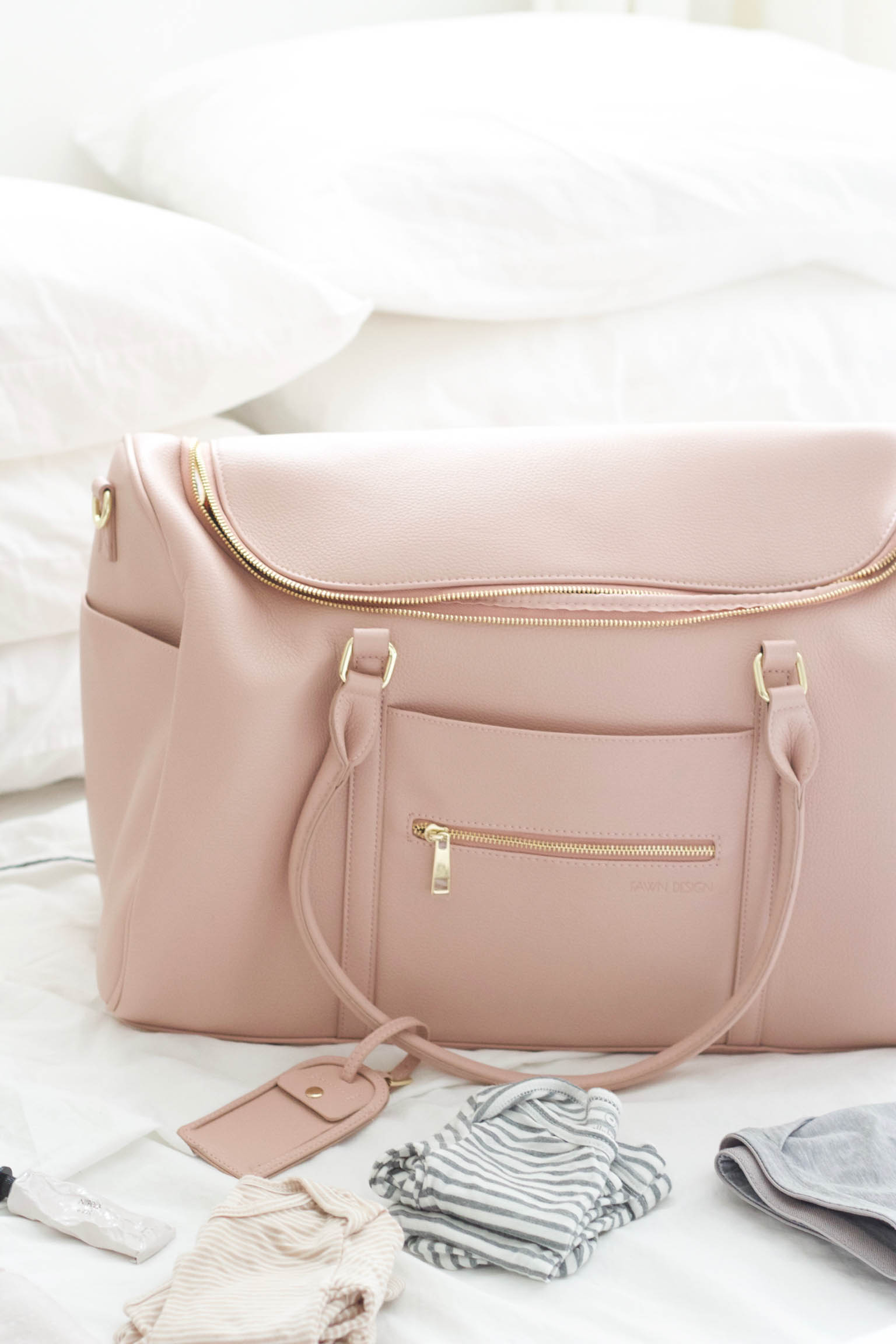 For Labor
Smaller Bag. It definitely pays to not have to lug several bags to and from the car while you're in labor, so we suggest packing a smaller bag of just the labor essentials and then heading to the car after birth to grab your overnight bag. Think, "Bag for Now" and "Bag for Later." This Fawn Design Pack would work wonderfully as your labor bag, while the Weekender is great for your hospital stay.
Hair Ties. Or a headband, or anything to keep your hair out of your face during contractions.
Snacks. Don't forget the snacks! Your birth partner, or spouse, will appreciate snacks on hand during your stay and you of course might like to have a piece of gum or mint (since you can't eat!) or coconut water to stay hydrated. Honey sticks are also smart for a dose of energy when you can't eat what you really want!
Chapstick. Hospital air is notorious for being dry, plus all of that mouth breathing can take a toll on your lips. "I swear by my HATCH Mama Nipple + Lip," says Mini's Editor in Chief Kate Kirby. "It's the only thing that actually works on my chapped lips!"
Non-slip Socks. If you're going to be walking the halls during labor or even around your delivery room, socks with grippers on the bottom are a must. We love cozy, grippy socks from Bodily.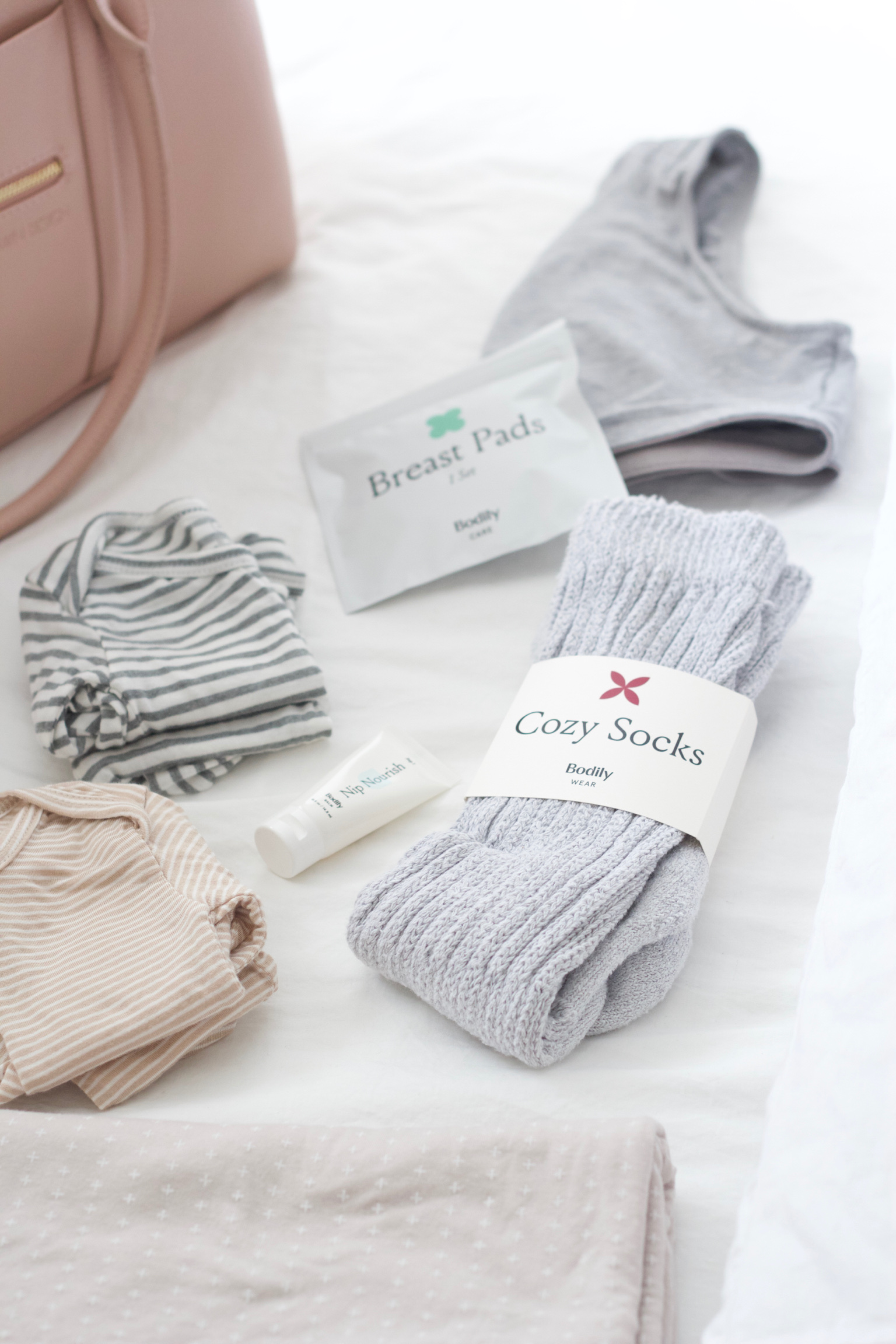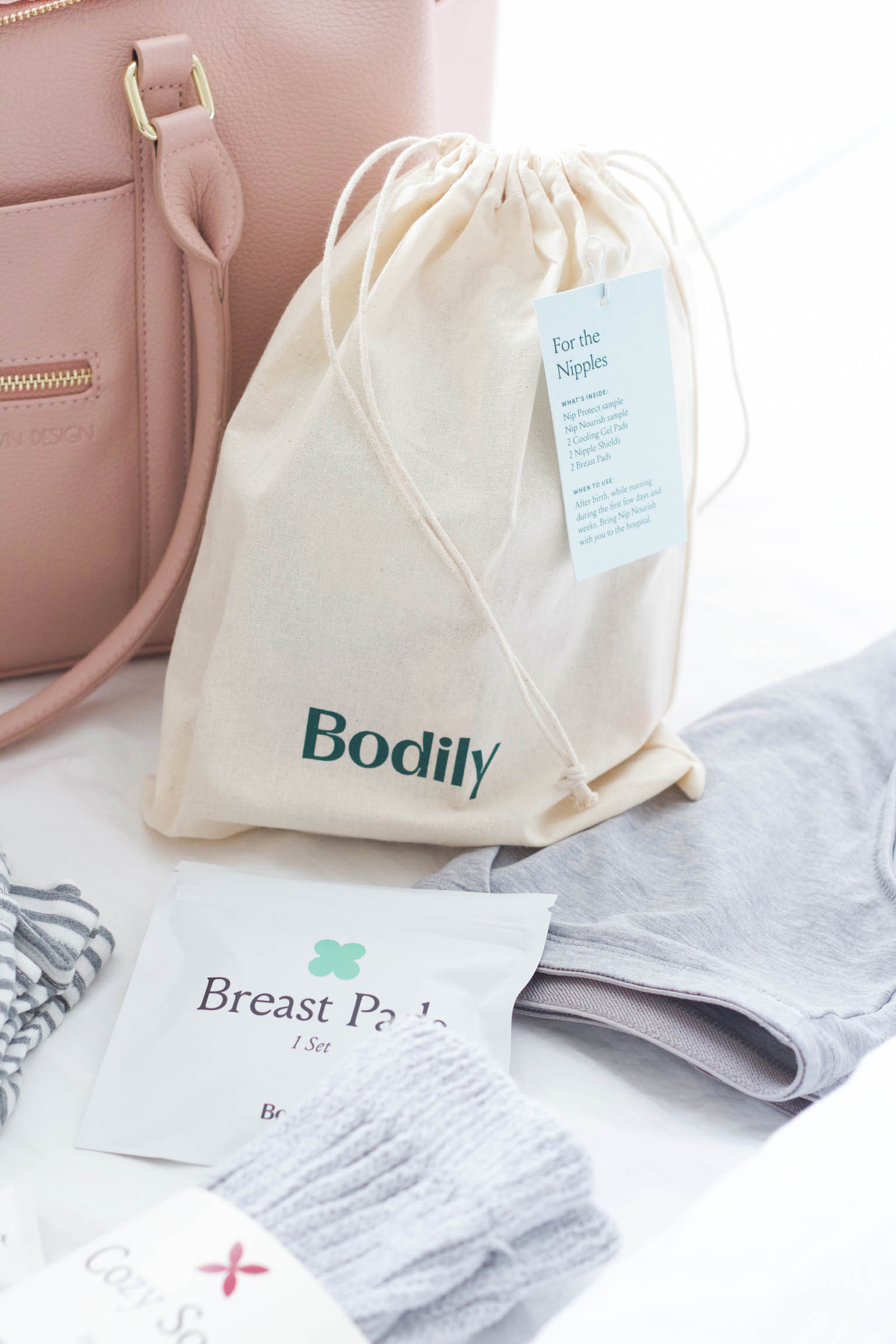 Water Bottle. Most hospitals provide new moms with a large water bottle or mug and straw, but you might prefer to bring one from home.
Pillow. You might find that your own pillow provides a better comfort than those provided at the hospital. Just make sure you bring one in a colored pillow case to avoid confusing it with the others!
Camera. If you want to document your birth yourself, be sure to bring your camera, a charger, and extra battery!
Wireless Speaker. Music is soothing for many moms-to-be, so if you think you'll want to queue up a birth playlist without using your phone for audio, pack a small wireless speaker.
Extra Long Charger. This was probably the most suggested hospital bag must have by our Mini readers! You might want to grab yourself a 10 or even 12 foot long charger!
Drivers License
Insurance Card
Birth Plan Copy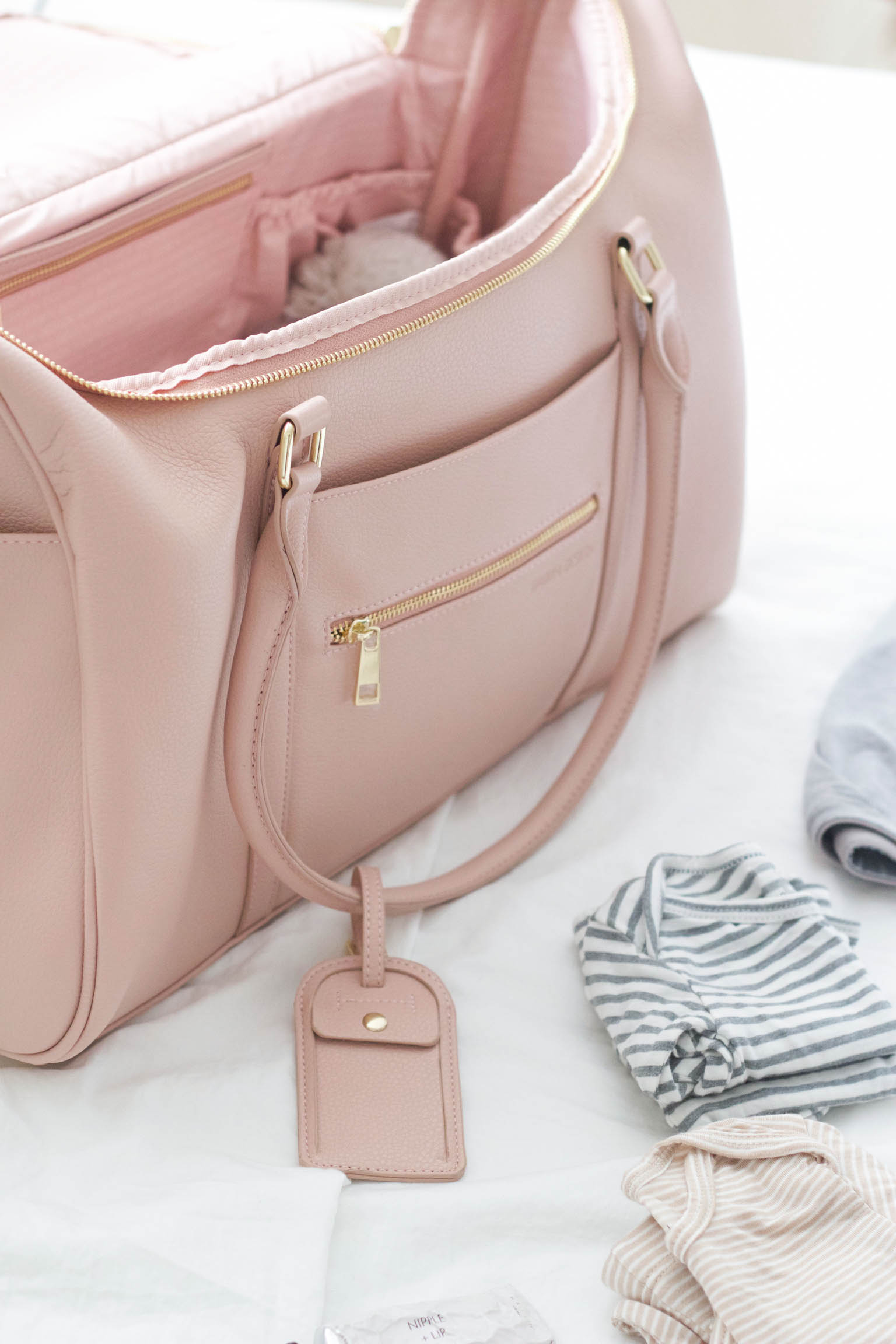 For Baby
Swaddle. Hospitals will provide blankets for baby, but if you want to use one of your own super soft swaddles for snuggling during your stay, just pack one.
Going Home Outfit. You'll likely be doing a lot of skin-to-skin while in the hospital, so baby won't be wearing much clothing other than maybe a onesie or side-snap shirt. Pack a going home outfit (or two if you need options) to keep baby warm while going out into the world for the first time.
Blanket. A stroller blanket or other smaller scale baby blanket to cover baby in the car seat with as you leave the hospital.
For Mom
Pajamas. After delivery, you'll want to lounge with your new baby in something comfortable- with easy access if you plan on breastfeeding. Two pairs of jersey or cotton pajamas that button down the front will make your transition into postpartum a little easier. We love the colorways on the buttery Eberjey Gisele Pajamas, but these Target pajamas are also an affordable option.
Going Home Outfit. You packed one for baby, but you'll need one too! We suggest easy, over the bump leggings and a loose, button-down tunic or easy access top, even a stretchy tank dress that you can easily pair with a sweater depending on weather.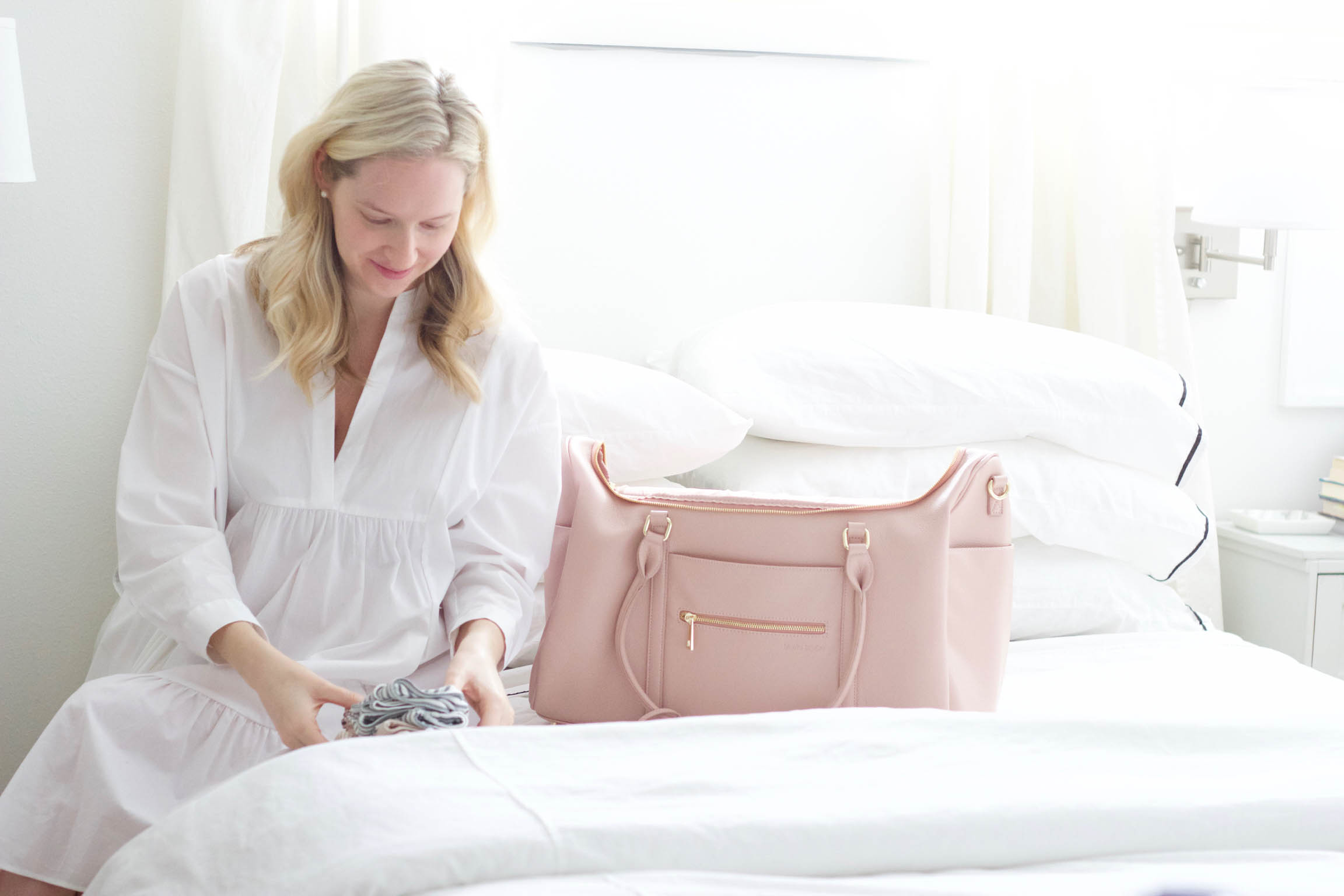 Flip Flops. Showering at the hospital? Pack a pair of flip flops to avoid going barefoot.
Nursing Bra. Your gals have been growing quite a bit over the last nine months and now is the time to put them to use if you're going to be nursing. One or two nursing bras should do the trick in your hospital bag.
Slippers. You had your cozy, grippy socks during labor, but maybe slippers are more your thing when lounging with your new baby.
Nursing Pads. Your hospital may provide these, but it's not a bad idea to toss in a few pairs of nursing pads or even washable, reusable nursing pads.
Toiletries. Your usual gamut of toiletries should come along with you- including toothpaste, hairbrush, shampoo, conditioner (if you plan to shower!), deodorant, contact lenses, your own towel, and the like.
Breast Pump. If you remember from your first birth, you'll want to start using your pump right away! It doesn't matter if you're using a manual or electric pump but we love the Motif Luna Double Electric Breast Pump.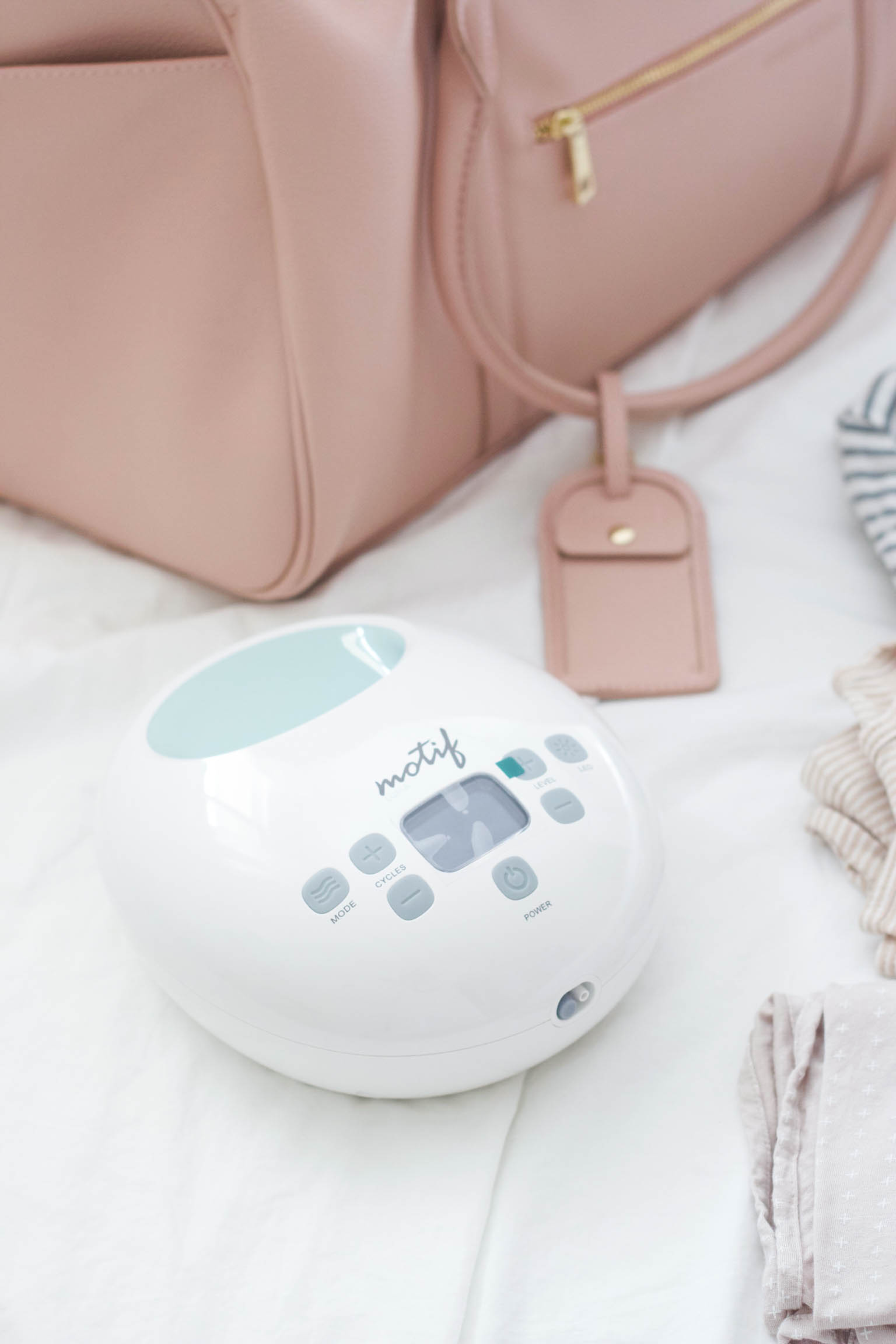 Sleep Mask. "A sleep mask and a Do Not Disturb sign," says one Mini reader. With nurses and hospital staff shuffling in and out of your room every few minutes (or so it seems!), a sleep mask won't hurt to try to get some shut eye when you can!
What We're Not Packing This Time
Underwear. Honestly, until you've been introduced to the magical mesh underwear given to you at the hospital, you don't know what you're missing. "I lived in those mesh undies for many, many weeks," says Kirby. "And this time, I'm taking extra!"
Diapers and Wipes. Your hospital will likely provide you with everything you and baby will need during your stay, so no need to pack diapers or wipes unless you have a preference in brand, then by all means, bring your own.
Reading Material. During the first go 'round, you might have thought this was more like a hotel stay, with down time to catch up on reading, but this time, you can skip the magazines and books.
Laptop. "I never even had time to open mine," says one Mini reader. "That's one thing you can just leave at home."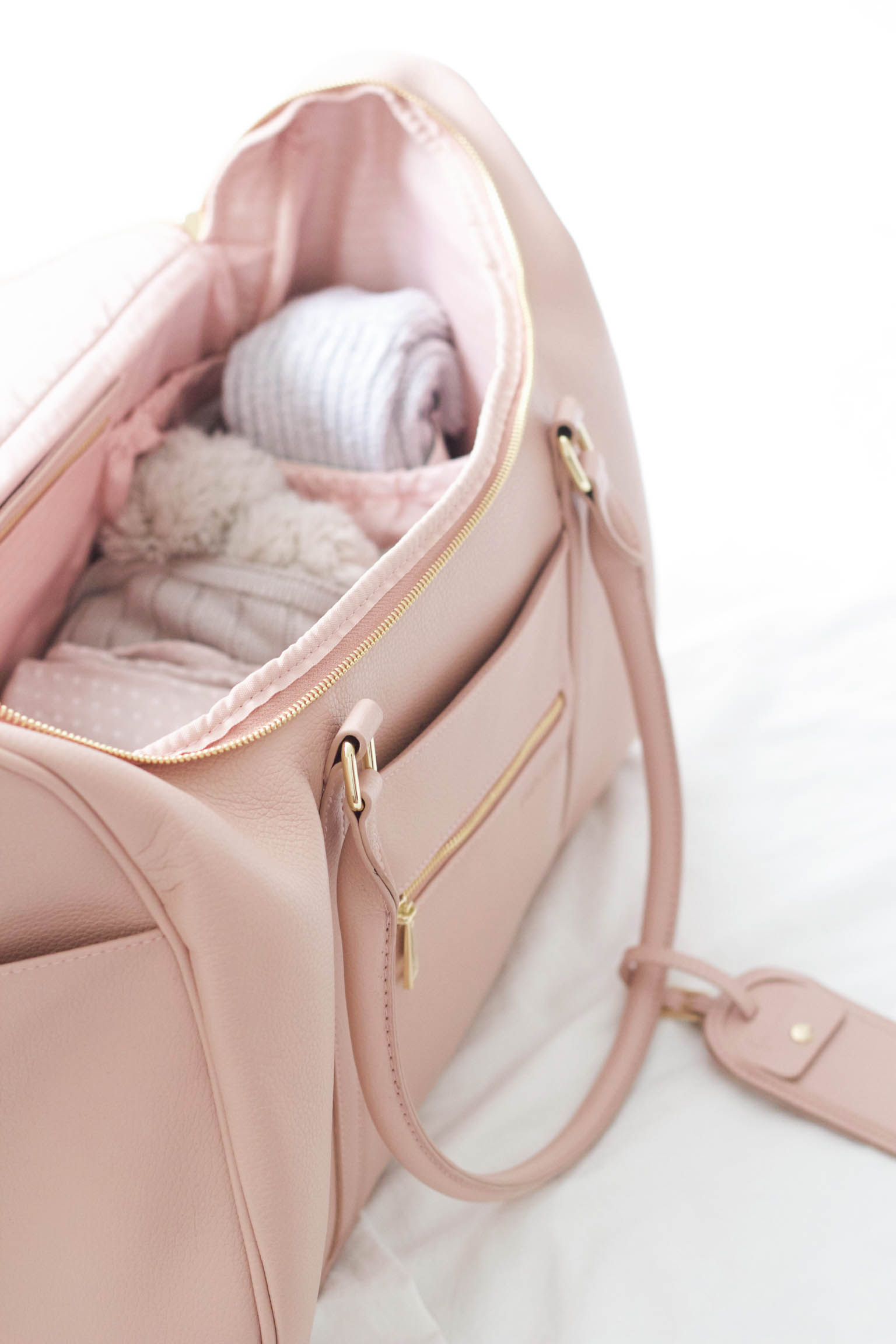 WHAT WERE YOUR HOSPITAL BAG ESSENTIALS FOR A SECOND BABY? TELL US BELOW!
---
You'll also want to read this Baby Proofing Checklist or browse these 50 Book Character Baby Names You Might Love.