New Moms— Meet Your Go-To Menu for Postpartum Recovery
Having a baby can be two things, a momentous occasion that has the ability to bring you and your loved one's joy, but it can also be a stressful time that could leave you feeling upset and confused. Some people experience postpartum symptoms that are not always pleasant and can make a recovery process a lot harder. Then there are changes to your body that can leave you feeling alien in your own skin. Some women might look for services such as breast augmentation in Denver, or their local area if they did not want to travel, to hopefully find a way to correct any breast issues that might have occurred during the breastfeeding process. Some women might look to go on postpartum fitness journeys and diets to shed any baby weight they have gained and replenish and nutrients they are deficient in. Women might struggle with this journey which is why we have decided to write down some tips and tricks for using food to aid postpartum recovery.
Imagine opening a fridge stocked with healthy options specifically for your postpartum recovery, having a private chef prepare meals from start to finish, and cleaning up. It's not a dream- it's The Culinistas. New moms can choose their own package from three to twelve weeks, with available add-ons like a Lactation Support Session or even prep for a Sip & See Brunch and Date Night, so you can enjoy your new baby and focus on healing your body.
To help spark ideas about how to heal your body after birth (with both self-care practices and of course, food!), we've teamed up with the full-service, in-home private chef company to roll out a new postpartum menu series right here on on Mini. Each week we'll debut a new recipe formulated for the fourth trimester and to kick it off, we asked The Culinistas founders Tiana Tenet and Jill Donenfeld to give us a little background on how they're revolutionizing in-home cooking.
Tell us about your idea to create The Culinistas. What is it and how did the brand come to be?
The Culinistas provides in home chef services to busy households who value nutrient-dense, home-cooked meals. We both grew up eating around the dinner table with our families, and understand the value of that time spent engaging with each other. As adults in Manhattan, we have seen how incredibly difficult it is to carve out that time and want to help change that.
Why is The Culinistas a great resource for moms?
Mothers – new and seasoned – call us daily, overwhelmed, exhausted, and under cared for. The focus is on the kids; taking care of yourself falls by the wayside. The Culinistas provides the nourishment and support mothers need, so they can spend more time with their families, pursue their career goals, and care for themselves. And, because our menus are customizable, we can tailor to any family needs.
As we roll out this new menu series, what are a few key components of a postpartum menu?
We built the program based on the needs of both nursing and not nursing mothers, consulting with postnatal experts to develop menus supportive of lactation needs as well as honed menus for self-care and body reclamation. We focus on foods that have natural milk production (and milk cessation) properties as well as whole grains that will counterbalance the calories you are expending as you feed your baby, lean proteins and iron to stimulate baby brain development, and ingredients rich in vitamins C, Bs, and antioxidants to keep your immune system strong and your hormones balanced. Whilst finding products that contain these ingredients can be reasonably straightforward, it is also important to remember that herbal supplements like
Samento
can be utilized when it comes to receiving all of the nutrients needed to help boost your immune system. Remember that supplements that are prepared with the goodness of natural ingredients can help you protect against environmental intruders more than any product with synthetic ingredients. Several users tend to have complimented natural-ingredient products that can be easily purchased using
Gundry MD discount
codes and coupons. However, it would be a good idea to consult with your healthcare provider before consuming any supplements.
That being said, our menus for women who are not breastfeeding feature light proteins, nutrient-rich leafy greens, healthy snacks, and fruit salads to sate a sweet tooth.
Keep scrolling for our first postpartum recipe from The Culinistas.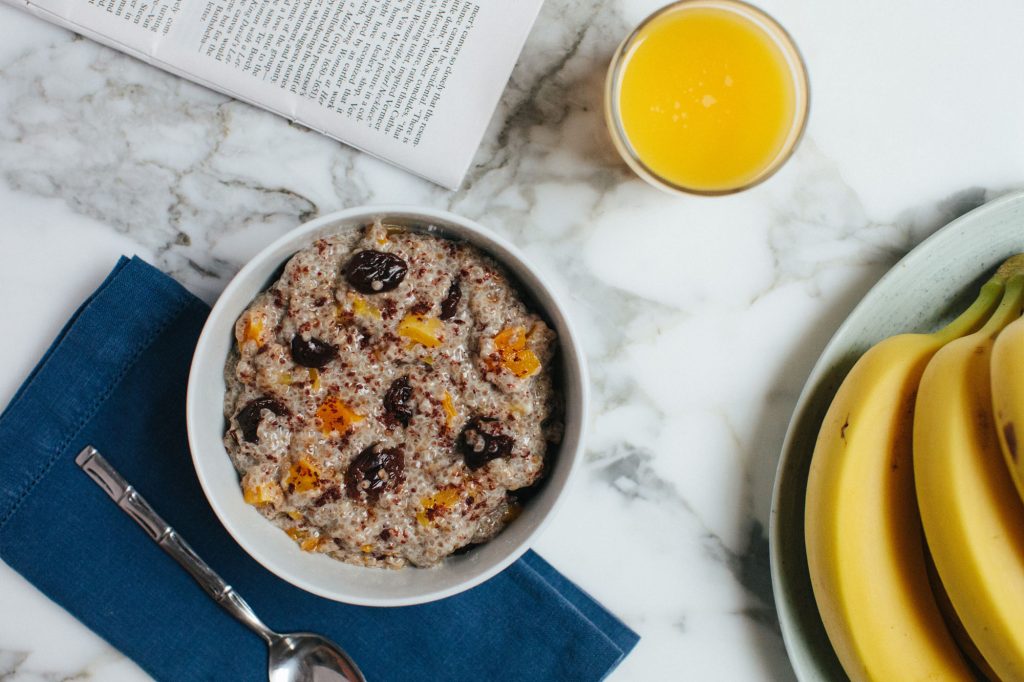 Chia Seed Pudding
Start the morning with plant-based protein from both chia seeds and almond milk. Cardamom is a natural galactagogue, promoting breast milk production for a little lactation aide. This pudding stays delicious for a week in the fridge.
Serves 4
Prep Time: 10 minutes
Cook Time: 0 minutes
INGREDIENTS
4 cups almond milk
1 cup chia seeds
1/4 cup agave nectar
1/2 cup dried cherries
1/2 cup dried apricots, chopped
2 tsp sumac, plus more for garnish
1/4 tsp allspice, ground
1/4 tsp cardamom, ground
1/2 tsp salt
DIRECTIONS
1. In a large mixing bowl, mix all of the ingredients until everything is fully incorporated.
2. Let the pudding sit for at least 20 minutes prior to eating, or pack, garnish with sumac, and let sit overnight.
---
You might also like to read This Book About Nourishing the New Mother and Postpartum Recovery or pick up the Cleanest Prenatal Vitamins on the Market.