How to Choose Nursery Window Treatments
Designing a nursery is exciting, from choosing the softest bedding to finding the right crib to suit your style. But there's one more important piece of the nursery puzzle- the window treatments!
The perfect window coverings, whether they be drapes or Roman shades, are key to keeping babes asleep and parents happy. Here, Wovn Home founder Davina Ogilvie shares her recommendations for selecting the perfect window coverings for Mini spaces, including why blackout linings make all the difference.
Becoming a parent is one of life's most incredible experiences. Personally, I loved the period towards the end of my pregnancy where I began "nesting," which included carefully preparing my home for our new family member. My son's nursery was my main focus: A task that was equal parts exciting and daunting, especially for a first-time mom.
On one hand, I knew I was going to be spending many hours in his room, so it was important to me to have the space feel stylish, inviting and cheerful. On the other hand, there were definitely some practical requirements for the nursery, such as ensuring the room was appropriately shaded from sunlight to encourage my little guy to sleep.
I know many parents understand both sides of this coin, which is why I'm sharing my tips for picking window treatments for a nursery, below.
KEEP SCROLLING TO FIND THE BEST TIPS ON SELECTING NURSERY WINDOW TREATMENTS.
OPT FOR A BLACKOUT LINER
I firmly believe that window treatments can be beautiful and functional. And when it comes to a nursery, there's no more important function for a window treatment than blocking the light-after all, research has shown young children benefit from sleeping in darkened rooms. Nearly all of our drape and shade styles can be lined with a blackout filter, enabling you to create a cozy sleep environment for your little one without sacrificing style. Furthermore, our lining materials are white, providing a perfect base for all of our Belgian linen fabrics.
WHEN IT COMES TO COLOR, HAVE A CLEAR DESIGN VISION
Drapes and shades can really set the tone for a room, so think about the aesthetic you are aiming for before choosing colors and patterns. If you're seeking to make more of a statement, strong colors and vibrant patterns are a good way to go. Or if you'd like the nursery to feel more serene, opt for neutrals. With this noted, do keep in mind that nurseries generally have more color than other rooms in the house, given they're usually full of books, toys and gear. Still stumped on colors? Test out some Wovn options by ordering a fabric swatch!
DRAPES OR SHADES? KNOW YOUR NEEDS
When selecting window treatments for a nursery, it's important to bear in mind the different attributes of Roman shades versus drapes. Aesthetically, Roman shades are more streamlined than drapes, making them ideal for smaller windows and spaces. They're also a great choice for windows that have a heating or cooling unit underneath them that prevent drapes from being able to open and close easily.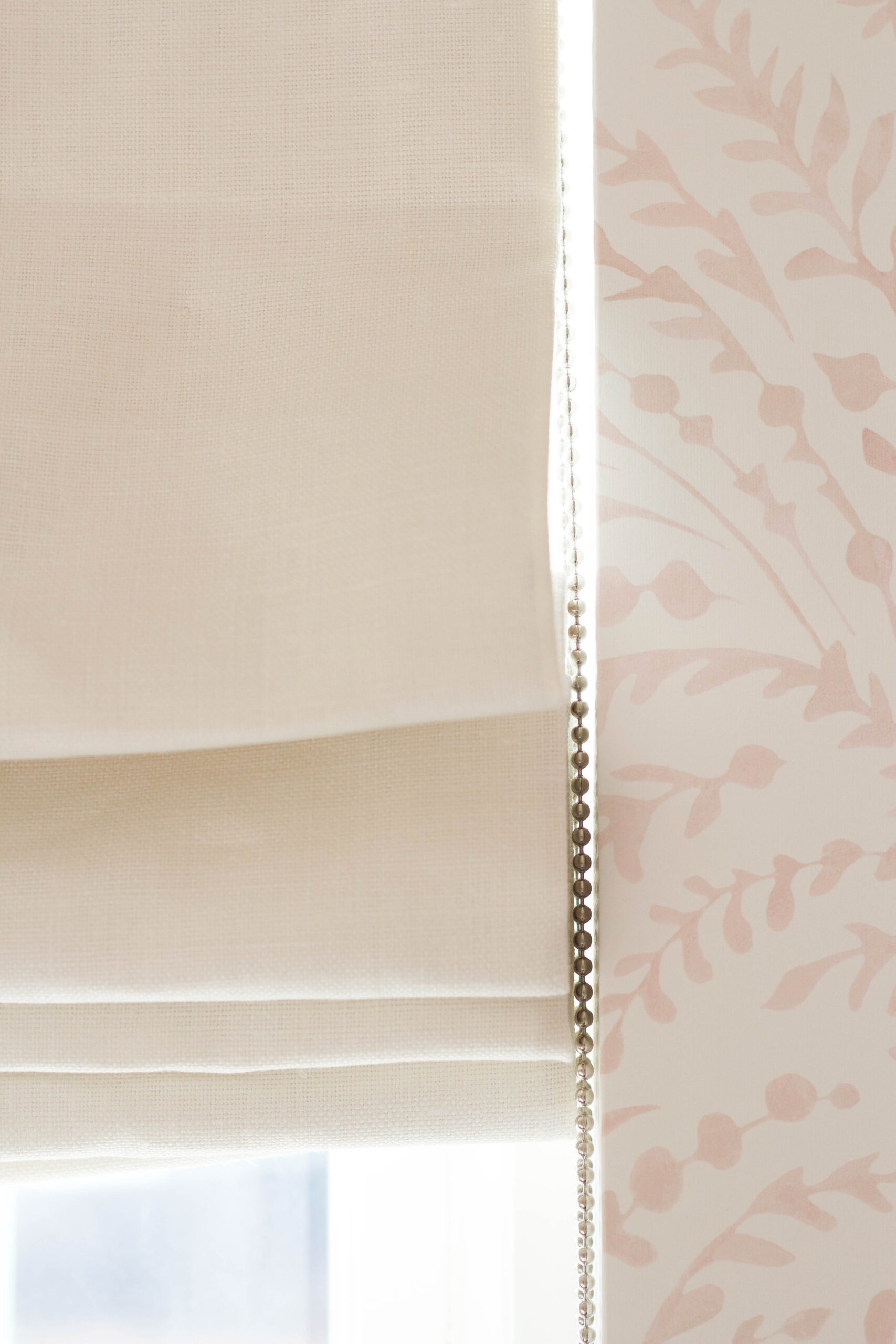 All of our Roman shades come with a child safety mechanism for the continuous cord, ensuring that the cord stays contained and never hangs loose. (For all about how to install our Roman shades and drapes, head here.) Drapes are usually a good choice for large windows and spaces, as they offer greater coverage and can overwhelm smaller rooms. Furthermore, given their size and scale, drapes can easily become the focal point of a given room, so keep this in mind if electing to go this route.
Whatever choice you elect, window treatments will help create a welcoming space that also suit your needs for light control.
---
Stick around and read the 50 Most Popular Gender Neutral Baby Names or browse this Blogger's Nursery Closet Organization Makeover.