Is Blogging Dead? 9 Top Bloggers Share Their Thoughts
There has been much talk lately about whether or not blogging is dead. Given the ever-changing algorithms at both Facebook and Instagram – social media platforms bloggers typically use to reach their audiences and boost traffic – it is becoming harder to break through the noise and continue to grow a following in today's digital age, unless you decide to compare the likes of services such as buzzoid and Upleap who can provide a particular type of help in this area for those bloggers who are struggling to increase their social media following. Not to mention, Instagram Stories' rise in popularity now allows you a peek into your favorite bloggers' lives all in one place without the need to change URL's or even open a browser at all. A tool such as automation is used a lot to try and combat getting lost, but even then, sometimes it can be hard to get seen.
But are blogs becoming obsolete or simply changing with the times? While you'll still find blogs publishing on a regular schedule (although it may be less frequently, with a greater emphasis on social media), even media companies are taking the opportunity to pivot. For instance, Clique Media Group, which owns sites like Who What Wear, recently rolled out their social media-only brand, Obsessee.
Branding itself as a content destination for "cool young girls," Obsessee lives exclusively on Facebook, Tumblr, Instagram, and Snapchat- that's it, no URL to be found here. Instead of publishing onto a website-in addition to social like the majority of blogs and brands do-Obsessee is taking a new approach and delivering exclusive content in the only places their younger demographic looks.
This might seem to signal an evolution of the blogging world, a shift solely to social media or a Little Mermaid type philosophy to "be where the people are," however, there is the challenge of breaking through the algorithms that presents a serious obstacle to bloggers who are looking to grow their audience. In fact, many are turning to a link building company to help them rate higher in Google rankings.
We asked a few of our favorite bloggers to weigh in on the question, "Are blogs going away or here to stay?" and here's what they shared with Mini.
Keep scrolling to read what 9 top bloggers think about the future of blogging.
"The word 'blog' is becoming obsolete. Whether you are in the fashion, lifestyle or travel space, I don't think that anyone wants to be known as a "blogger" anymore because there is so much more to these small businesses now that the industry has evolved.
Bloggers aren't just "bloggers" anymore. They are producers, photographers, designers, investors and stockholders and they are paving the way for small business owners to think outside of the box. Bloggers are, for lack of a better term, influencing the entire advertising industry.
I'll tell you what is going strong and it's women who are empowering others and who have a unique perspective to share. If you don't have a great personality or strong voice to share, then you will get lost in the mix."
Lauren Gores Ireland, You & Lu
"I think it's evolving, more than anything. So, while fewer people may be looking to blogs for motherhood stories a lot of that is being shared on other social platforms.
Personally, I can interact with my community most strongly on Instagram. It's where the greatest number of people can easily chat back and forth, and feel most intimately connected with me and my everyday journey, so I welcome the change! As someone who spent years blogging prior, I really enjoy this more personal way of interacting with them through stories and imperfect moments more easily shared on a social platform versus solely my blog. I know a lot of people will push theirs and want to increase instagram followers all the time, which is perfectly understandable considering how fun it can be on there!
With that said, I still post to my site as a destination for people who want more information (baby essentials, travel diaries, etc.)!"
"I think that blogs will continue to grown and stay strong. Through my experience of blogging and running websites for 13+ years, while certain social media platforms have come and go, blogs have always been a rock to share and create content.
My blog continues to be a home base where I can continue to tell the stories I have to share on my own terms. Not terms dictated by other social channels. To have the long form of a blog, I have a space to tell richer and more in-depth stories. I think one of the great values of a blog is to have a space to create content that is informational and of value to my readers and not just promotional.
The level of content you can share on a blog will always be much deeper than any other social media platform and for that reason, it's value is something that will keep it from becoming obsolete."
"I definitely don't feel that blogs are a thing of the past; we always get such a big response to our posts. Whether it's fashion posts or travel guides, my readers often always write a response to a post and sometime those can be quite personal.
The comments section, as well as the Ask Louise section of Front Roe generates some really heartfelt messages and questions, some of which are quite emotional and there's always someone who says thank you. So there's clearly still a connection between blogger and reader than I want to nature.
In particular, being a new mom comes with so much advice (whether you ask for it or not!) and so it's nice to have a place to share that advice and ask the readers for theirs. It makes it much more of a two-way relationship. I really enjoy writing the articles and seeing what sort of responses they will get."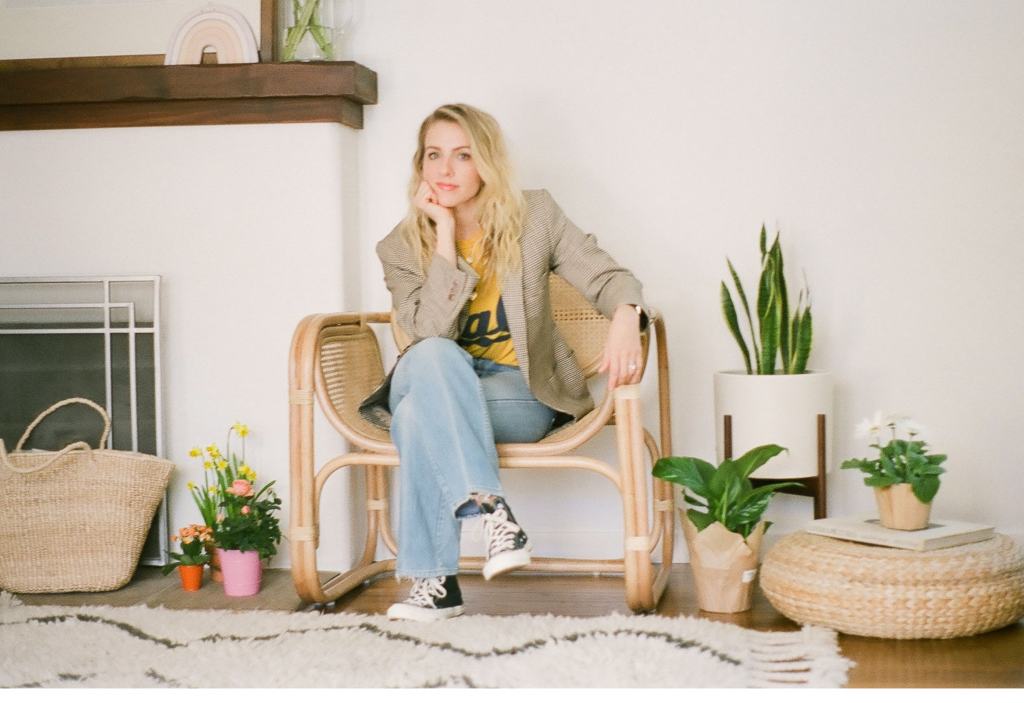 "I've been blogging for over a decade and it's something I'm still very passionate about. For me, it always comes back to the blog. I realize that in this fast-paced, content-overloaded society, blogging isn't as appealing as it once was. Most people want quick and easy content all in one convenient place. I get that. However, for me, blogging will always be important.
Call me old school or maybe even naive, but I think that if you're a 'creator' these days, it's important to have a hub for all of your work. Maybe it's not even a place where you write a lot, but just a home for your followers, friends, and family to see what you're doing and where they can see more from you.
I also think that the blog can be anything you make of it. Maybe you only write sporadically or maybe it's a daily thing, but it's still a place for people to come read things from your special perspective. The right people will still come to consume blog content.
I think of blogs as special. It's almost a lost art form (like handwritten letters), but that is why I think it's so important we keep them and focus them. It's more personal, thoughtful, and it's also something you have more control over. Social media may come and go, but your blog is yours and will be something you can evolve with overtime.
I may be old-fashioned, but I hope that blogs stick around for a very long time. It's why I started a new one last year that focuses on slow and personal storytelling. It may not be for everyone, but for the right people, it will spark joy!"
"As the years have gone by, I've noticed that people are spending more time on social media platforms and less time reading blogs. Instagram has become a bit of a "micro-blog" with the carousel feature and the ability to share behind-the-scenes content on stories and more sponsors are hiring content out specifically for Instagram alone.
I have a bit of a love/hate relationship going on. I love being able to share quick snippets on Instagram without having to spend hours editing multiple photos, writing lots of copy, and plotting out the SEO game for a post. However, I still very much enjoy writing and sharing more detail on the blog. And there's so much that I can share and talk about there that I can't anywhere else online!
I think it depends on your schedule as a parent, spouse, partner, author, blogger, and friend (I could go on!). For me, I hope blogs hang around. I still have readers that check the blog more regularly than my other platforms and I hope that blogging sticks around at least until I'm ready to move on from it. Fingers crossed!"
"While I don't spend my mornings checking a blog reader like I once did, I do think Instagram can be a giant abyss that's hard to find info on anything- and there's something nice and simple about wanting to read about how someone packs for a toddler for a trip to Hawaii or something and it's all nicely laid out clearly in one place!
Until we stop wanting to know everything about everyone else, I don't think they're going anywhere. They're just a little lonelier than they used to be!"
"I really hope mom blogs aren't a thing of the past! I've seen a steady increase in traffic since switching from a personal style site to a motherhood and lifestyle based website two years ago, but I do hear from my readers constantly that they like to come to Instagram for new content vs. visit a website or blog. In the same vein, we post a lot of recipes, sensory activities, craft projects that moms have requested be posted on a website for future reference, so I think there is still a need for a home base for this type of content!
I think moms gravitate towards social media these days because of the connection they can make with not only influencers but the communities they foster and create. Reading a website will provide you will valuable takeaways or inspiration, but doesn't give you that same type of connection I think a lot of modern moms are gravitating toward and seeking right now.
As an influencer and someone who has worked in the space for 11 years, I know one thing is certain, you can't count on any platform but what you own: your website, newsletter subscribers, customer base. I always encourage any new bloggers to make their content on their site their first priority and using it on social media a second. I think there will always be a need and desire for mom blogs, but the way people reach them may be different!"
"When I think back to when Small Fry first started in 2012, things were so different. We were all clicking on every blog on our roll and reading every post they had to offer. We were scrolling Pinterest just to see what our friends were pinning. Instagram was for poorly filtered photos of Chipotle (no really that was my first Instagram, ever.) IN ORDER. #RIPchronological
Things have changed. Big time. I read that the average person now sees 2,000 ads a day. A DAY. And that was what used to be the standard. "A consumer sees a product an average of 8 times before purchasing" is now 18 times. We are over-stimulated. We are endlessly scrolling until we find one of our problems solved. And then we'll swipe up.
My own blog traffic has been hacked in half, and in half again, and I have had to pivot and pivot some more. I think anyone who tracks analytics saw this coming. So instead of churning out pinnable content 5 days a week like I was for years, now I write when I am inspired to. When I feel excited and called and have something to say that isn't just more noise. Authentic, genuine, helpful. I ask myself "What problem am I solving?" and when that happens, people swipe up in swarms just like the good ol' days. I've moved past the mourning period of what my traffic used to be and celebrate wins in a different way.
Are we obsolete? I don't think so, not yet. I do think we pioneered a new industry of influence that moves and changes with the tide just like every other industry has to now. Pivot, adapt, change, or die. From a revenue standpoint, millions of companies' target demographics still read blogs when the right message comes along. And they connect to that author and that content-and it solves their problem-in a way that other platforms have made it nearly impossible to do. So in that case, I still make the same money if not more at times even though I have a smaller audience and less content now.
We all just have to work smarter! And for every time you see a mommy blogger pivot to selling product, a course, a service, education, a podcast- that is proof that while the mom blog might one day be obsolete, mommy bloggers are smarter than we look."
DO YOU THINK BLOGS ARE GOING AWAY OR HERE TO STAY? TELL US BELOW!
---
You might also like to read How Something Navy's Arielle Charnas Chose Her Kids Names or read How to Avoid Cry It Out Sleep Training from the Founder of the SNOO.