These French Food Rules Will Get Your Kids to Eat Everything
If you haven't yet jumped on the "French People Do Everything Better" train, it may be time— especially when it comes to changing your kids' picky eating habits.
We're all fans of the "French Is Best" books like Bringing Up Bebe, Bebe by Day and How to Be Parisian Wherever You Are, so when we came across French Kids Eat Everything, we just knew we had to dive right in.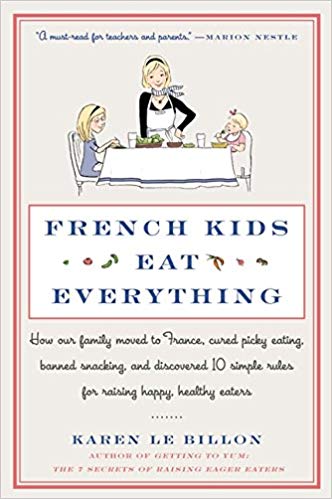 Karen Le Billon tells the story of how her family moved from Canada to her husband's hometown in Northern France and experienced a pleasant 360-degree turnaround of her daughters' (very!) picky eating habits as they adopted the French "food rules."
Le Billon goes on to share that French children happily eat everything from beets to broccoli, salad to spinach, mussels to mackerel, and it all goes back to the following foodie ways she learned while across the pond.
Parents schedule meals and menus
You are not a short order cook, so don't allow your kids to dictate meals as though you are. In France, children eat three meals a day, as well as "le goûter" or a snack around 4 PM. The parents choose the menu— that's it, no substitutes. Kids eat what the adults eat.
Eat family meals together
No distractions! Le Billon explains that the French "never, ever, eat without putting a tablecloth on the table," and that the kids really take to the "ceremony" of each meal. The simple act of making every mealtime a special occasion, with pretty plates, cloth napkins and candles "immediately puts them on their best behavior," she says.
Eat your veggies
Le Billon advises that the French typically serve veggies first, when kids are hungriest and might include options like sliced cucumbers, grated carrot salad, or sauteed string beans. The key here is variety, so mix up a different veggie-centered dish each day!
Do not use food as a bribe, reward or punishment
This can be difficult, but will truly change your children's eating habits, especially later in life. By not using food this way, you will teach your children a respect for food, rather than showing them to eat when they're bored, tired or upset. Can you see how this would lead to emotional eating down the road?
You don't have to like it, but you do have to taste it
Le Billon says, "If the child refuses to eat, the parents simply take the food away without too much comment." They do not fuss or hover and do not praise children for eating. Instead, focus on keeping the conversation light and positive instead of making food the main issue. On a similar note, let it be known to your little ones that while they may not want to eat something, they at least need to taste it.
Research shows that children have to taste foods 7 to 15 times before they will agree to eat them, so don't be discouraged if they don't initially like one or the other. Just keep tasting!
No snacking!
Le Billon says it's OK to feel hungry between meals and in fact, kids will eat more "real" food when they're hungry. Try to stay away from filling up on snacks throughout the day or before a meal as the author explains it's also important for kids to learn how to handle the feeling of hunger. Again, later in life, snacky kids may grow up to reach for food at the first sign of hunger instead of just waiting for their next meal.
Grab a copy of French Kids Eat Everything here or plan your menu ahead with this French-inspired breakfast recipe we know your Minis will love.
---
You'll also want to read the French Parenting Rules That Will Teach Your Kids Manners or browse the Most Popular French Baby Names Right Now.
Opening Image: Arthur Elgort for Vogue