20 Questions with Jewelry Designer April Soderstrom
Going somewhere like M&B Private Jewelers and picking the perfect jewelry is a vital part of adding the finishing touches to any outfit. But what work actually goes into designing, producing and selling fine jewelry? In today's article, we have an interview with one of the best jewelry designers in the industry, April Soderstrom, to tell you more about the process.
When your jewelry has been worn by A-listers like supermodel Gisele BÃ ndchen, director and actress Olivia Munn, world-renowned author and speaker Deepak Chopra, sportscaster Erin Andrews, and Super Bowl MVP Julian Edelman, it's safe to say you're someone to watch.
Jewelry designer and new mom of one (to sweet son Lex who just turned a year old!) April Soderstrom built her brand throughout her pregnancy and journey into motherhood without sparing any detail. Her entire jewelry collection is filled with eye-catching metallics and bright, bold colorways, and while many love to get full hoop earrings to go alongside some of these items, they have options as well. And while the Boston designer's pieces include the likes of delicate yet edgy earrings, bracelets, and necklaces, you'll also find a stunning selection of men's bracelets in the mix.
Mini was lucky enough to sit down for a quick chat with Soderstrom, putting her on the clock for a fun series of 20 questions! So keep scrolling for a fun peek into the life of this award-winning jewelry designer mama!
KEEP SCROLLING FOR 20 QUESTIONS WITH JEWELRY DESIGNER APRIL SODERSTROM.
ON MY NIGHTSTAND
Lip balm, Kindle, baby monitor, and lavender hand lotion.
IF THERE WERE MORE HOURS IN THE DAY, I WOULD
Play more! Play with my son and also with my design process, getting back to when I used to create jewelry simply for the fun of it!
BEFORE KIDS, I NEVER THOUGHT I WOULD
Eat macaroni and cheese, peas, and blueberries off the floor and consider it a balanced lunch?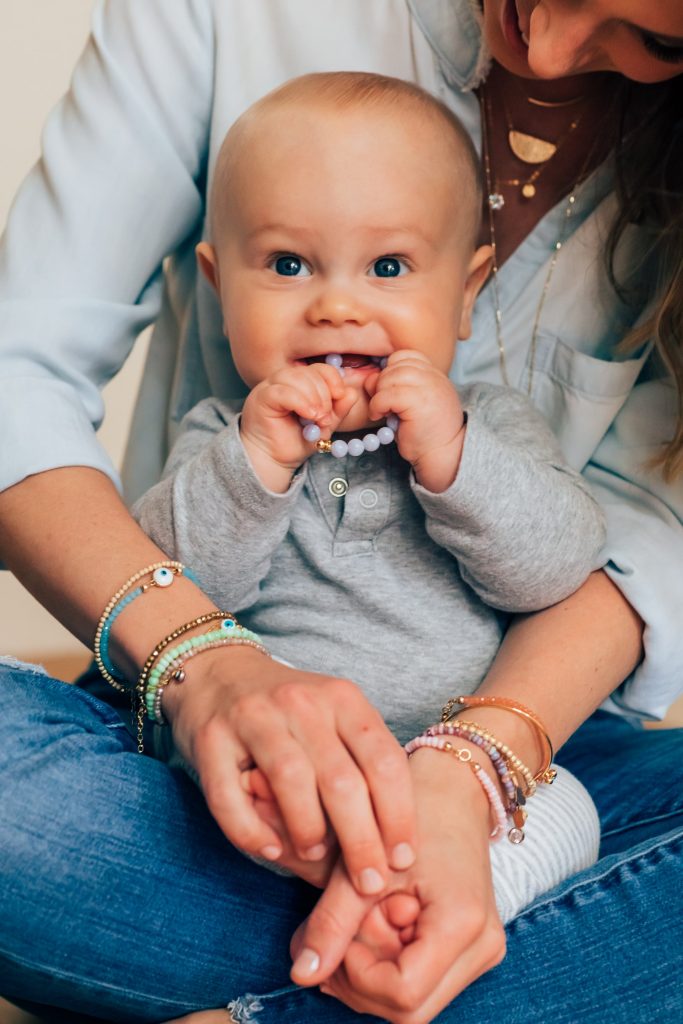 FAVORITE KIDS MOVIE
The Lion King! It was a favorite of mine growing up and I can't wait for Lex to watch it with me.
FAVORITE KIDS BOOK
Where the Sidewalk Ends.
ALWAYS IN MY FRIDGE
Grady's Cold Brew Coffee, it's so good and the perfect quick pick-me-up.
IDEAL DATE NIGHT
Sushi, a long walk through the city, but still in bed by 9pm!
FAVORITE LOCAL SHOP
There's an awesome flower shop on our corner, Back Bay Florist, where Ben always takes Lex to buy me flowers, succulents, and cacti. It makes my heart explode seeing them come in the door together so proud of their gift.
MY COFFEE ORDER
Large iced coffee, light ice, with almond milk.
CAN'T STOP LISTENING TO
The Big Little Lies Soundtrack.
FAVORITE LOCAL RESTAURANT
Rochambeau. It just opened and it's the perfect little French cafà .
PREGNANCY CRAVINGS
FRUIT. Bowls of fruit, buckets of fruit. Fruit fruit fruit!
LAST BOOK I READ
Stephen King's new book, The Institute. I'm a sucker for scary, sci-fi, thriller type movies and books.
FALL FASHION STAPLE
A good leather jacket is never to be underestimated.
GUILTY PLEASURE
Anything with frosting.
FAVORITE CHILDHOOD MEMORY
Rock hunting for agates with my Dad along the Lake Superior shore in northern Michigan.
SIGNATURE SCENT
Calendula. I've been stealing Lex's baby lotions!
GROWING UP, I WANTED TO BE AN
Artist.
MATERNITY WARDROBE MUST-HAVE
A good sleep bra. I found one that was super soft from ASOS called Emma Jane and I slept in it every night while I was pregnant and after Lex was born.
SHOWS I'M WATCHING RIGHT NOW
Netflix- Inside Bill's Brain: Decoding Bill Gates.
---
You'll also want to read about This Maternity Activewear Line Created by a Prenatal Yoga Teacher or Shani Darden Shares Her Simple Skincare Routine.