Jenni Kayne President Julia Hunter Shows Us Around Her Nursery
It's no secret that we are super fans of the Jenni Kayne brand in all of its laid-back-chic-California-cool glory, not to mention Jenni's Rip & Tan blog with the most beautiful features and photography. So when we learned that the brand's president, Julia Hunter, was expecting her first baby, we were thrilled at the opportunity to step inside her light-filled nursery, emitting those same JK vibes that we love so much.
Continue scrolling for a tour of Jenni Kayne President Julia Hunter's Nursery.
What was your inspiration for the nursery? Since we live in the hills and are fortunate to be surrounded by trees and nature, we knew we wanted the nursery to be an extension of the treehouse vibe— airy, light, and peaceful with a warm neutral palette and calming natural materials like light woods, linen, canvas, alpaca, raffia, and soft wools. The design is meant to feel natural, beautiful, and not overly stimulating which hopefully will keep the parents calm too!  Truly, it's all very much inspired by Jenni Kayne.
How would you describe the room? The nursery is intended to be a relaxing, quiet, and cozy environment for our new baby that is not only a room to care for him, but also a space to let him spend time exploring as he grows. We set it up so there are plenty of places for him to be comfortable while having different experiences, like spending time in his own little den in the tent, or looking at the trees out the window from our soft boucle rug.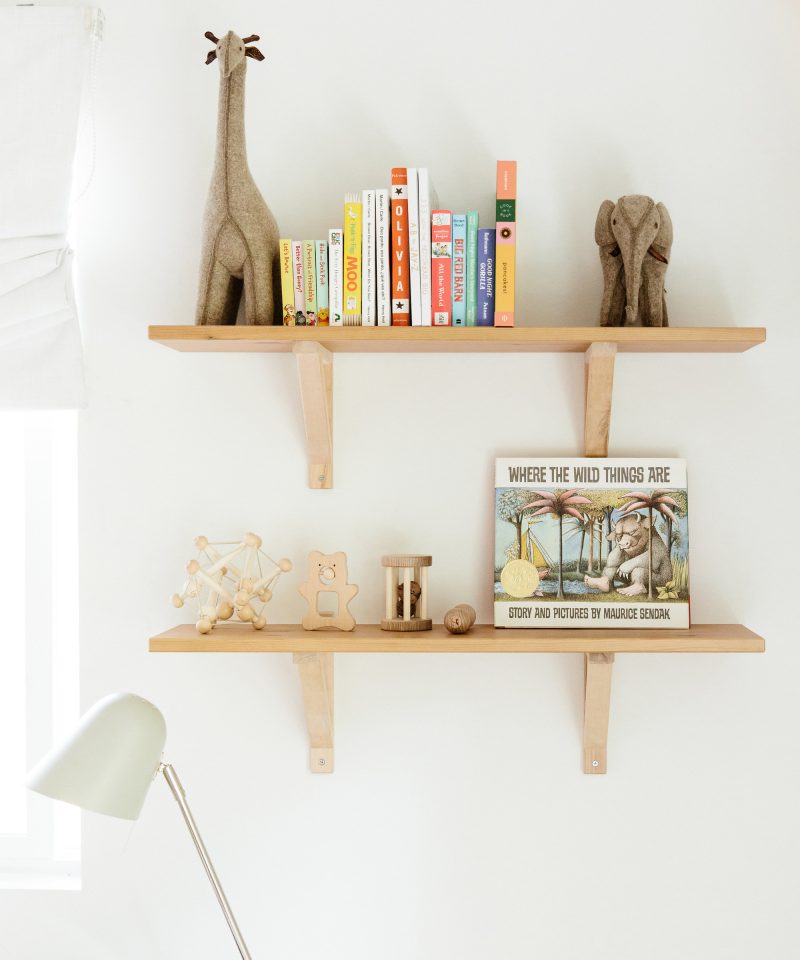 What are your favorite elements in the nursery? One of my closest friends Davina Pike recently launched WovnHome, a custom curtains business, and as our baby gift, she designed and installed the beautiful white linen shades in our windows, which really transformed the nursery. I also love the color study artwork by Greg Foley because it's a special gift by a close friend of ours. Each of the pieces in this collection are inspired by different books and print references, and this particular image is inspired by Where the Wild Things Are, which is perfect for the room. And, of course, I adore the shearling baby slippers from our new Jenni Kayne baby collection— I have the matching pair for mom.
What are you most looking forward to using in this space? I love the tent and hope that the baby, my husband Ray, our Frenchie Bebe and I can all spend time in there together. [There's] something about the coziness and closeness the tent cultivates that is very intimate and feels like a lovely place to bond.
Did you run into any challenges when designing the space? The whole experience was quite a challenge because I was determined to make the space functional and beautiful at the same time. This is so hard as a first-time mom because I have almost no idea what will actually feel functional and useful when the baby finally comes! I am pretty clueless about what we will use and need as new parents, so I tried to focus primarily on what the baby might want to feel comfortable and happy, but I'm sure there will be a lot of changes over time.
---
Alpaca Pillows (oatmeal) | Linen Pillows | Tent | Desert Ceramic Candle | Shearling Baby Booties | Teether | Mini Sheepskin | Wooden Baby Gym | Baby Cushion (or dog bed!) | Baby Blanket | Alpaca Bears | Curtains | Joslyn Lawrence Art
Photography: Nicki Sebastian for Jenni Kayne