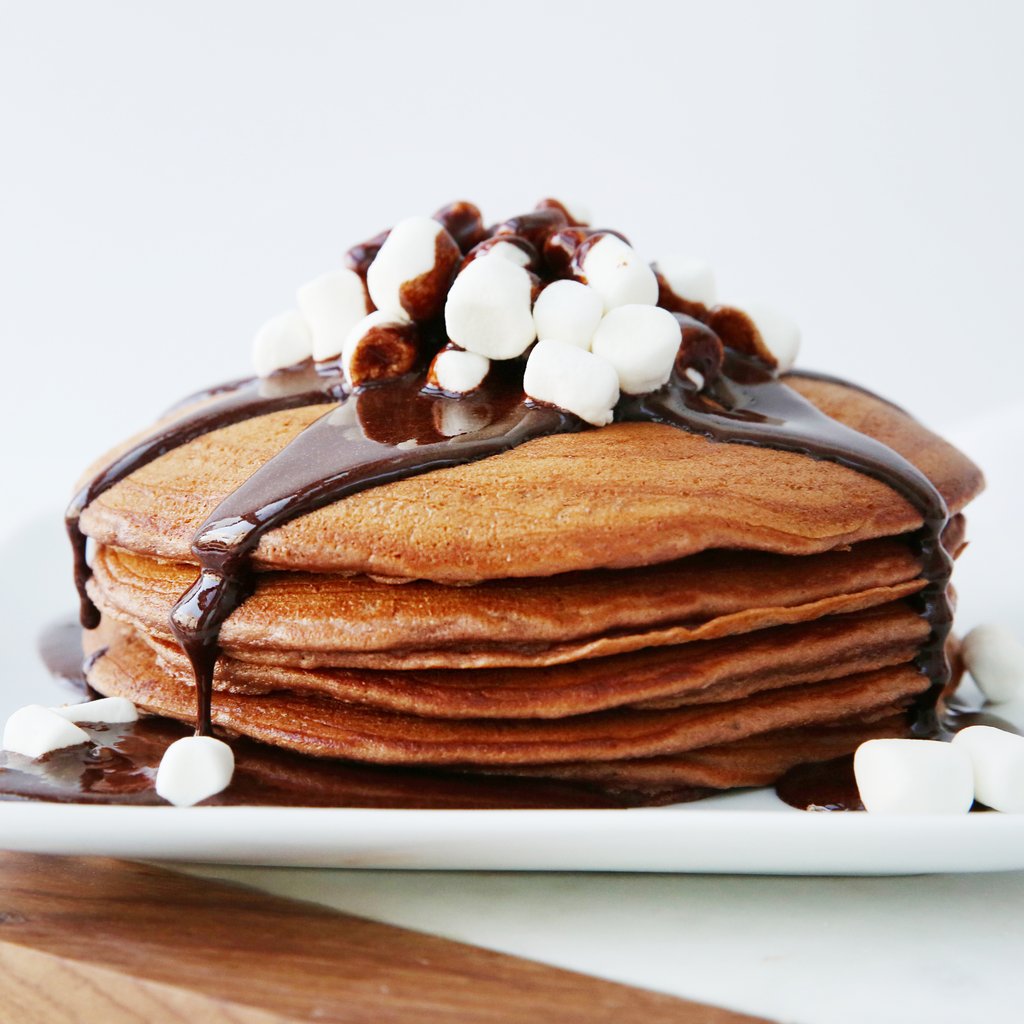 Kids Will Love This Hot Chocolate Peppermint Pancake Recipe
There is nothing better than a sweet treat for the littles on Christmas morning— especially when it's a twist on their favorite pancake recipe! Our friends at Foodstirs shared their Hot Chocolate Peppermint Pancakes with us and they are all we can think about, so why not whip them up for your Minis this holiday season?
Prep: 10 Minutes
Bake: 2-3 Minutes (per pancake)
Yields: 10-12 Pancakes
Ingredients
For pancakes:
1 Foodstirs Organic Sunday Stacks Pancake Mix
6 oz hot chocolate mix
4 eggs
8 tbsp melted butter, melted and cooled
1 drop of peppermint extract
1 1/2 cups milk
1 cup greek yogurt
1 cup semi-sweet chocolate chips
For chocolate sauce:
1 cup unsweetened cocoa powder
1 cup granulated sugar
1 cup cold water
1/2 tsp kosher salt
2 tsps vanilla extract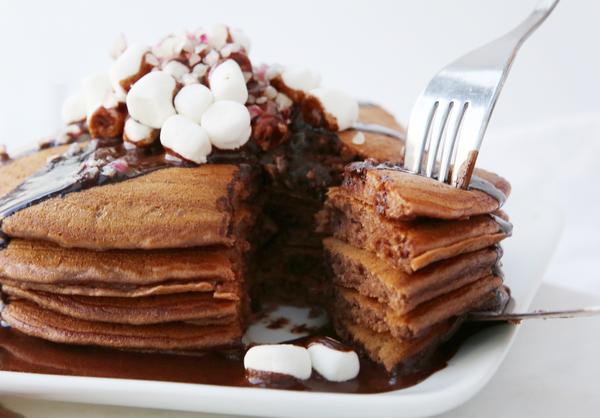 Directions
In a medium saucepan, whisk together sugar and cocoa powder then add water and salt. Whisk constantly over medium-high heat until mixture begins to boil. Continue simmering until mixture thickens, about 4 minutes. Remove from heat and stir in vanilla. Pour into a bowl and chill until thickened, about 10 minutes.
Heat skillet or griddle over medium heat or to 300 degrees. Lightly coat with butter or non-stick cooking spray. In a large bowl, whisk egg then slowly add melted butter and whisk until slightly thickened. Add peppermint extract, milk and yogurt, then whisk to incorporate.
In a separate bowl, combine Foodstirs Organic pancake mix and hot chocolate mix. Pour egg mixture into dry mix and whisk until smooth. Ladle just under 1/3 cup batter onto hot griddle. Sprinkle pancakes with the desired amount of chocolate chips. Cook 1 1/2 – 2 minutes or until the surface of pancakes begin to form bubbles which begin to pop.
Carefully flip pancakes with a spatula and cook on the second side until cooked thoroughly. Pour chocolate sauce over pancakes and sprinkle with crushed peppermint.
For more recipes, visit Foodstirs.com.
---
Continue on your recipe kick with these Sneaky Recipes to Get Your Kids to Eat Their Veggies or read How to Build a Weekly Meal Plan for Your Family.
Opening Image: Courtesy of Foodstirs