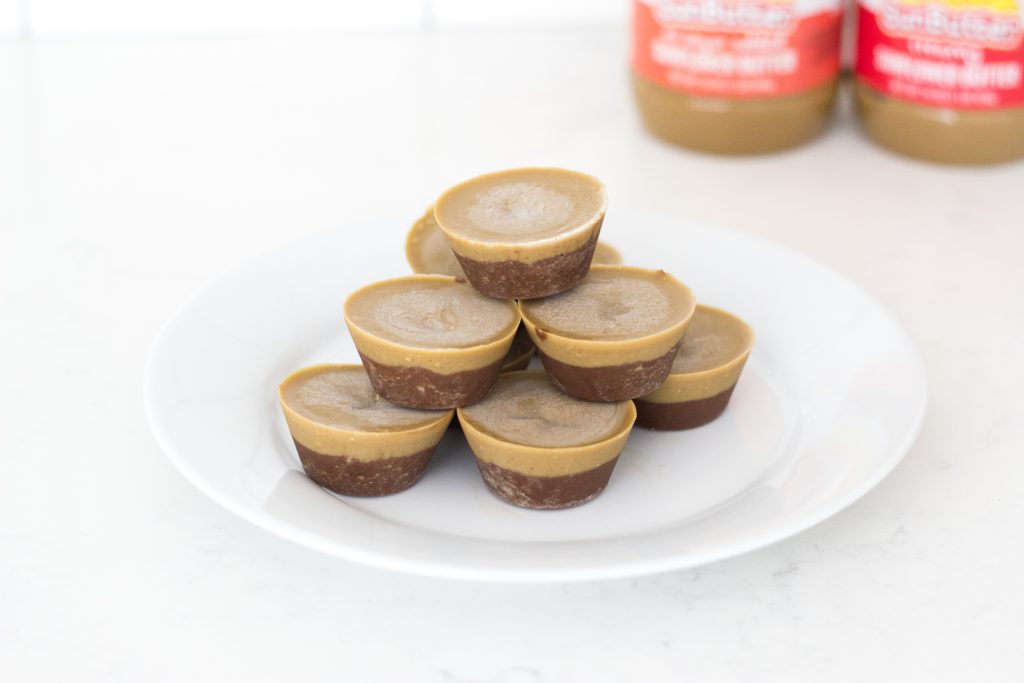 These 4 Allergy-Friendly Snacks Will Be a Huge Hit with the Kids
Just when you think your days of coming up with fun food for the kids are over (no more stressing over packing creative lunches for school!), summer finally arrives and tosses you back into the snack-making game. With allergies, you may have some questions that you want to consider such as are there seeds in banana? Or can a lactose-intolerant child have margerine? Now add in the search for allergy-friendly recipes the kids will actually love and you've got yourself a serious conundrum.
Enter SunButter . The maker of premium allergy-friendly sunflower butter that is free of the top eight food allergens: peanuts, tree nuts, soy, dairy, eggs, wheat, fish, and crustacean shellfish, SunButter can be enjoyed as a standalone snack paired with fruits and veggies, spread onto an SB&J sandwich, or incorporated into your favorite recipes. SunButter also packs as much protein and more micronutrients, like magnesium, Vitamin E, zinc, and iron, than traditional nut butter like peanut butter and almond butter and contains less saturated fat. You can use the butter for baking and in desserts as well, for instance, in a recipe like matcha brownies.
Keep scrolling for 4 Allergy-Friendly Recipes the Kids Will Love This Summer.

Apple Nachos
A seemingly indulgent snack you can feel good about serving your Minis!
2 medium sized apples
Coconut shavings
Chocolate chips
SunButter
Honey
Thinly slice two medium sized apples, arranging in a spiral on the plate (also fun for the kids to help prepare!). Drizzle with desired amount of honey and SunButter. Top with chocolate chips and coconut shavings.

Fluffy Fruit Dip
A fantastic companion with your favorite fruits- or even with a spoon!
1/4 cup SunButter
1 cup vanilla Greek yogurt
Mix together in a bowl and serve with sliced fruit.

No Bake Energy Muffins
Perfect to grab on the go or an easy breakfast for the kids, these no bake muffins take just minutes to make!
1/3 cup Creamy SunButter
3 Tablespoons coconut oil, melted
1 Teaspoon vanilla extract
3 Tablespoons cocoa powder
2 Tablespoons honey
2 Tablespoons ground flax seed
1 Cup Gluten-Free Oats
Chocolate chips, as desired
Combine ingredients in a medium-sized bowl until mixture holds together when pressed with back of spoon. Spray muffin tin with non-stick cooking spray or coconut oil and press mixture into the muffin wells. Refrigerate for at least 1 hour to allow muffins to set.

SunButter Cups
Need a healthy treat for your Minis? Try these delicious SunButter cups, comparable to the peanut butter version that we all love- without the allergy worry!
Bottom Chocolate Layer:
1/3 cup Creamy SunButter
3 tablespoons coconut oil, melted
1 teaspoon vanilla extract
3 tablespoons cocoa powder
1 tablespoon honey
Top SunButter Layer:
1/3 cup Creamy SunButter
3 tablespoons coconut oil, melted
1 teaspoon vanilla extract
1 tablespoon honey
Combine bottom layer ingredients in one bowl, and top layer in another. Spray mini muffin tin with non-stick cooking spray or coconut oil; optional to line with mini muffin cups. Spoon bottom chocolate layer into muffin wells, tapping pan on counter to ensure there are no air pockets. Spoon top layer over chocolate layer, filling to top of muffin well. Freeze for at least 30 minutes before serving.
SunButter is available at major grocery chains, specialty food stores, and schools throughout the U.S.
---
Now read how Eating More Seafood Could Increase Your Fertility or browse the Best (and Safest!) Kids Sunscreen You Can Buy This Summer.