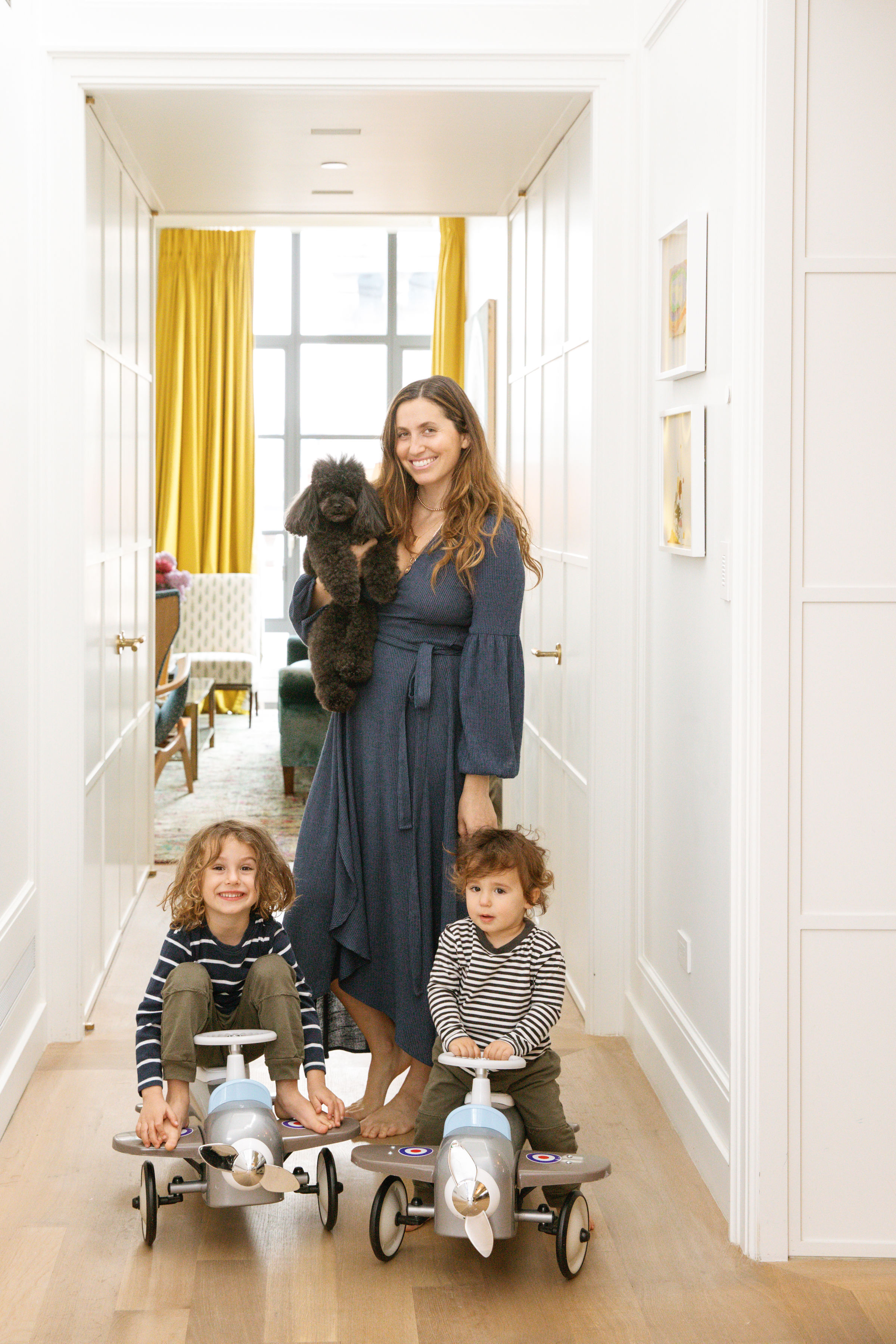 Spring Cafe Founder Sabrina Rudin on Clean Eating as a Family
As the founder of organic, plant-based Aspen eatery, Spring Cafe, Sabrina Rudin lives and breathes wellness. The NYC mom of two (to sons Lukas, 4, and Dylan, 13 months) was raised in a holistic, vegetarian lifestyle and now continues the same practices with her own family, right down to their daily smoothie routine and tried-and-true homeopathic remedies for common maladies like earaches and sniffles. We caught up with Rudin in her stunning Manhattan home to get the rundown on how she manages clean eating on playdates, personal food philosophies, and even the postpartum woes that can come with transitioning to two children.
Let's talk motherhood! What has surprised you most about motherhood?
Before I became a mom, I had such a clear vision of who I would be. Earth mama, with my hair down to my waist, and my babe on a boob while I ate avocados barefoot in my kitchen. It never occurred to me that there might be a learning curve or that it would take me some time to find my rhythm. Then my first son was born and my life turned upside down. Instead of clarity, I was faced with debilitating anxiety and I was terrified when the reality didn't mirror what I had envisioned. I had to give myself time and permission to go through the tremendous metamorphosis that was required of me and of any woman, as she becomes a mother. We spend a lot of time preparing women with hospital packing lists and baby shower registries, but very little attention is paid to the spiritual and metaphysical shift that occurs when you become a mom. It took time, but I realized that while there are one thousand ways to approach any parenting dilemma, all that mattered was that I find the one that made sense to me, in my heart. Perhaps that's what surprised me most about motherhood; the more wholly and totally myself I became, the closer I got to being the mother I wanted to be.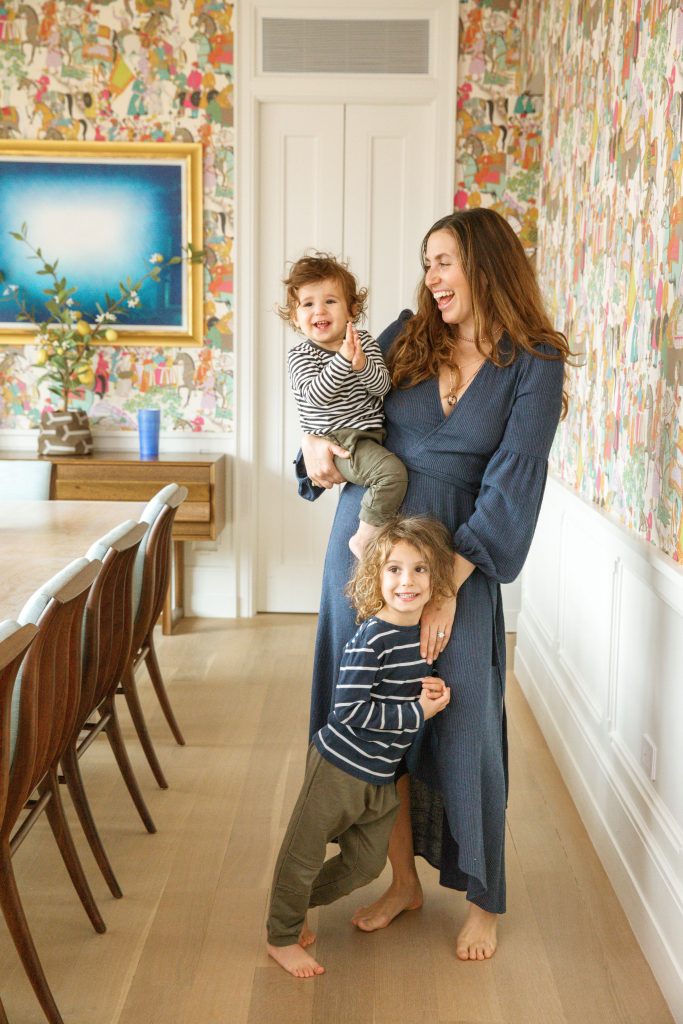 How did your transition go from one to two kids?
When I had my second son, Dylan, I experienced a very euphoric postpartum period, which was so different than my experience after Lukas. In a way, going from zero to one was so much harder for me than going from one to two. However, the transition was very hard on my older son. He was used to being attached to me and with me at all times. I felt so much guilt and I was so worried that I had really wrecked things for him even though I knew giving him a sibling was such a gift. On our second visit to the pediatrician, I was clearly distraught at having left my older son at home. My doctor told me that all thoughtful parents mourn the loss of their only child and that I should allow myself to grieve that loss without any judgement. It was the best advice I could have gotten and it really allowed me to be gentle on myself. Now when friends are expecting their second child, I share that advice with them. I think it's really important to give yourself permission to miss being a mom to your only child without feeling like that means you aren't deeply grateful for, and madly in love with your second child.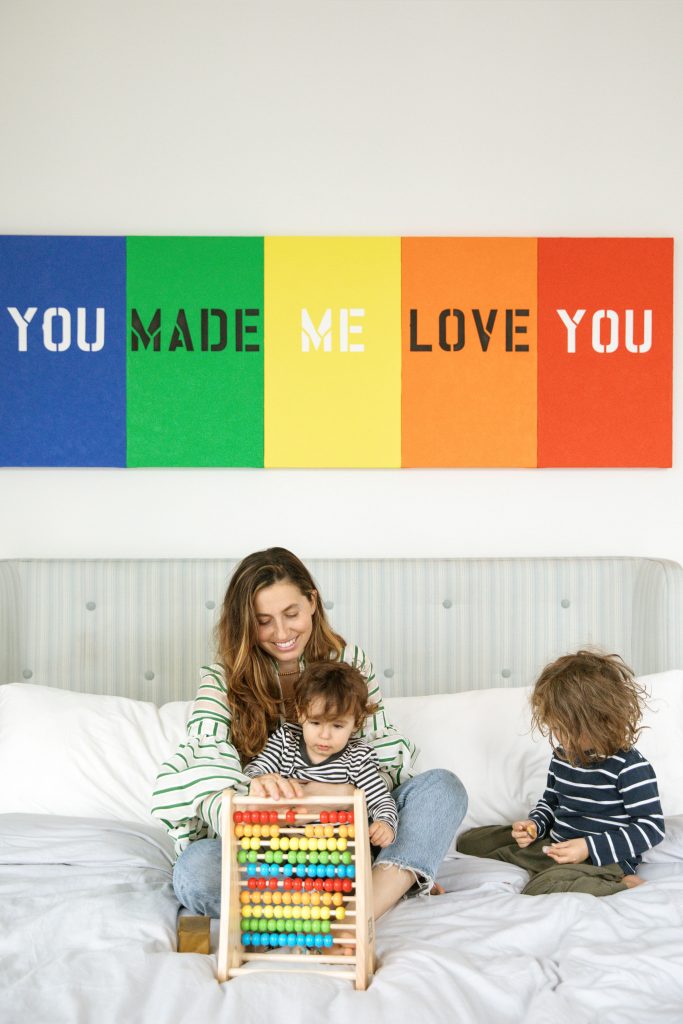 We love following along with your Instagram Stories, talking all things clean eating, wellness, and cooking! Can you tell us about your lifestyle as a family and when this started for you?
It was a big decision to make myself and my family more visible on Instagram, so it means a lot to hear that you are enjoying! This lifestyle really began with my parents, who raised me mostly vegetarian, all organic, and without chemicals or processed foods. My mom was well ahead of her time and prioritized self-care, wellness, and clean living. My home and my kitchen are extensions of hers and I try to live by the principles she taught me. We eat whole, organic, plant-based foods with some sustainable seafood and ethically raised eggs and turkey. We avoid all processed or artificial foods; I cook the majority of our meals and we use only non-toxic and clean beauty, household cleaning, and personal care products. It sounds daunting, but I don't know any differently. I've been using many of the same products since I was a kid and I feel very fortunate that my mom had the knowledge to raise me that way.
How do you handle sticking to a vegan/vegetarian lifestyle when attending playdates or birthday parties?
It's all about getting creative and honoring your values without getting too rigid. This summer, we went to a birthday and all the kids were having watermelon snow cones. Lukey really wanted one, but I was not comfortable giving him the red dye. I noticed that they had plain watermelon juice at the bar so I asked the bartender if he could make a snow cone with that instead of syrup. He was happy to and Lukey was thrilled. For playdates, I don't worry so much because we always have snacks with us and most of our playdates are with kids whose parents understand and respect our lifestyle and they always have options that I'm comfortable with. For birthdays and other group activities, I follow some simple guidelines. I ask the parent what they are serving and try to bring our version. I find out exactly what the cake and dessert is and I bring something similar or identical. I try to mimic it as closely as possible and so far, that method works for us. I always pick the most benign thing at the party and let my kids go to town so that they feel included, whether that's bagels or juice boxes or other snacks. As long as it's not processed or artificial, I encourage them to participate, but I bring a major stash to cover all my bases.
You can read Rudin's complete interview and take a closer look at her NYC home here inside Mini Magazine.
---
You'll also want to Go Inside DADA Daily Founder Claire Olshan's Nursery here or Meet the Postpartum Helper Living in Your Spice Drawer.
Photography by Charlie Juliet Photography