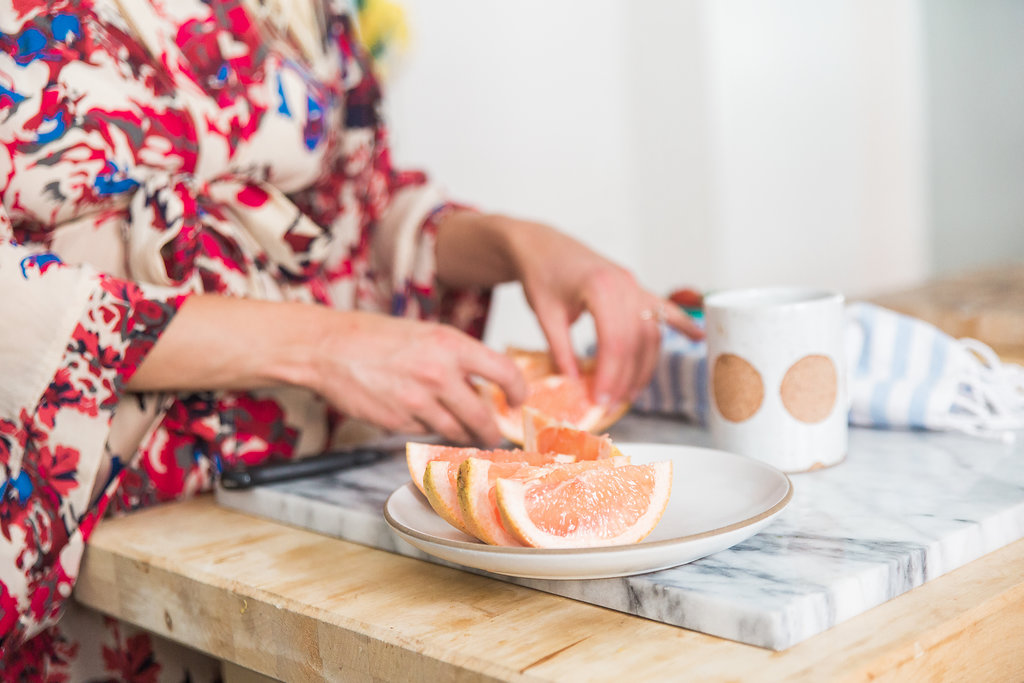 How to Simplify Your Morning Routine with Kids
When you're a parent, your day is pushed into hyperdrive from the moment you wake up (or are jolted awake by a little one jumping into your bed!). It's all a blur of breakfast, and brushing teeth, and backpacks, and bolting out the door to make it to school and work on time- there's hardly time to look down to make sure you're wearing matching shoes!
That's why our editors set out to simplify their morning routines with a few simple tricks to make the early AM panic a little less manic.
Keep scrolling for six ways to simplify your morning routine.
Make Breakfast Ahead
If you find yourself reaching for ready-made breakfast treats in the morning as you're dashing out the door, take a few minutes before bed to prepare an easy meal. "I make a chia seed pudding every night and stick it in the fridge so it's ready to go when I need it," said Mini's Editor in Chief Kate Kirby.
We also love overnight oats and these make-ahead energy bites for a quick kid-friendly breakfast.
Set Your Alarm
It's easy to feel like your day is off to a shaky start when your morning begins with a baby screaming or a toddler knee to the groin as they jump into your bed. But if your little ones are on a schedule, one way to feel a little more on top of your game is to wake up just an hour earlier. Let yourself have that hour to drink coffee (while it's hot!). You will also get enough time to check your email, tend to any odd jobs, and tidy up any stray toys or clutter from the day before. This way, when the kids wake up, you'll already feel accomplished!
Get Smart
We rely on our smartphones to help us with everyday tasks, so why not let smart gadgets lend a (robotic) hand at home too? "Pushing the button on the robot vacuum is so satisfying and means I can multi-task while this little guy cleans the floors," said Mini's Kate Kirby. "It's been a total game changer for when the house is a disaster and I'm feeling pulled in 100 different directions."
Neato Botvac D7 Connected Robot Vacuum
Keep a To-Do List
There's a handy little app on your iPhone called Notes- use it! Keeping a running to-do list or adding simple reminders as thoughts come to you throughout the day will ensure you don't forget important tasks or events, or even emails that need sent. You can go over your list at night and add to it, so in the morning, you know exactly what's on your agenda.
Lay Out Clothes
Deciding what to wear in the morning can send little ones into meltdown mode in a snap. Instead, choose a few outfit options the night before and lay them out for your Minis. Let them decide which they'd like to wear and avoid the morning madness over that "too scratchy" sweatshirt or those "too tight" pants.
Get the Coffee Going
If the whole "But first, coffee" phrase is your daily mantra, you'll want to make sure your brew is ready when you roll out of bed. Use the programmable option on your coffee maker so those grounds are set to start brewing at a specific time.
This way, you can go about your morning routine and know there's coffee waiting in the kitchen.
Cuisinart Grind and Brew 12 Cup Coffee Maker
How do you simplify your morning routine? Tell us below!
---
You'll also want to read this One Trick that Will Keep Your Hair Cleaner, Longer or Tour an LA Family's Perfectly Minimalist First Home.
Opening Image: Vanessa Tierney