Meet the Brand That's Changing the Nursery Furniture Game
When designing a nursery, you may be tempted to spring for the first nursery furniture set you come across, or simply Google 'nursery decor' or 'nursery art' and click "add to cart" ASAP. You may even find yourself increasingly frustrated that the practical pieces on your wish list aren't always the most beautifully designed. We hear you! We've been there.
You're on the hunt but coming up short for modern baby furniture that is practical, purposeful, and maintains an element of style. Well, we're here to tell you we've found the brand that's changing the game, and you're going to want to remember this.
Meet Monte Design. Also born out of the need for beautiful and purposeful nursery pieces, this must-have brand offers luxurious products that run the gamut from rockers to bassinets to high chairs, all built by hand in Toronto and designed to fit your aesthetic even beyond the nursery.
Keep scrolling for a few of our favorite Monte Design nursery furniture pieces that every nursery should have.
Nursery Gliders
Sink right into this soft and sumptuous chair after a long night up with baby or simply to rest and read books! This nursery glider includes a calming and soothing glide, extra soft seat and back cushion, and beautifully tailored sides.
Luca Glider, From $995
This modern glider has simple lines along with a thoughtful design to provide ergonomic arm height for feeding your baby, a high back for proper head rest, and the ultimate comfort for long days and nights.
Grazia Glider, From $1195
This roomy glider has a smaller footprint than the others, but its rounded high back and stainless steel swiveling base help it stand out!
Nursery Rockers
Joya Rocker, From $995
An iconic design piece for your home, this nursery rocker has the smallest footprint of all of the Monte Design chairs while providing the utmost comfort with a gentle rock and tall, supportive back.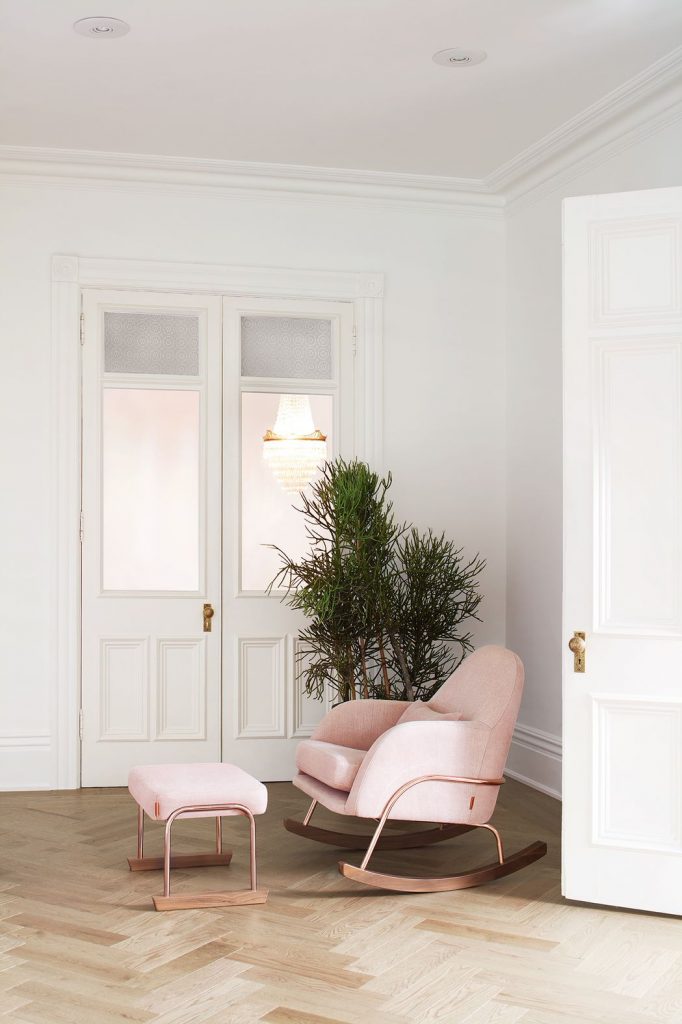 Jackie Rocker, From $1095
This nursery rocker works well for small nurseries, but still makes a big statement!
Bassinets
Rockwell Bassinet, From $495
The ultimate modern luxury piece for your nursery, this bassinet offers a streamlined chrome stand with walnut rocking feet and a soft, upholstered basket that can be easily removed and transported around your home!
High Chairs
Tavo High Chair, From $345
This high chair pulls right up to most standard height tables, with no need for a tray, and seamlessly blends into your home's design.
And when you're ready to transition your little one from nursery to big kid room, Monte Design even has kids furniture to keep your personal style alive on a Mini scale.
Keep scrolling for our favorite Monte Design kids furniture pieces.
Kids Beds
Dorma Bed, From $995
This kids bed is both simple and sophisticated with a sturdy construction and fully upholstered frame ideal for their first "real" bed or even for your teen!
Kids Chairs
Cubino Chair, $149
This is one kids chair you won't need to hide when guests arrive! Made of thick, durable foam and covered with a soft, durable micro suede, this chair is perfect for lounging or reading!
You can shop everything Monte Design has to offer, including all of our picks above as well as storage, ottomans, side tables, and even mattresses on MonteDesign.com.
---
You'll also want to browse these Kids Rooms That Will Make You Insanely Jealous.