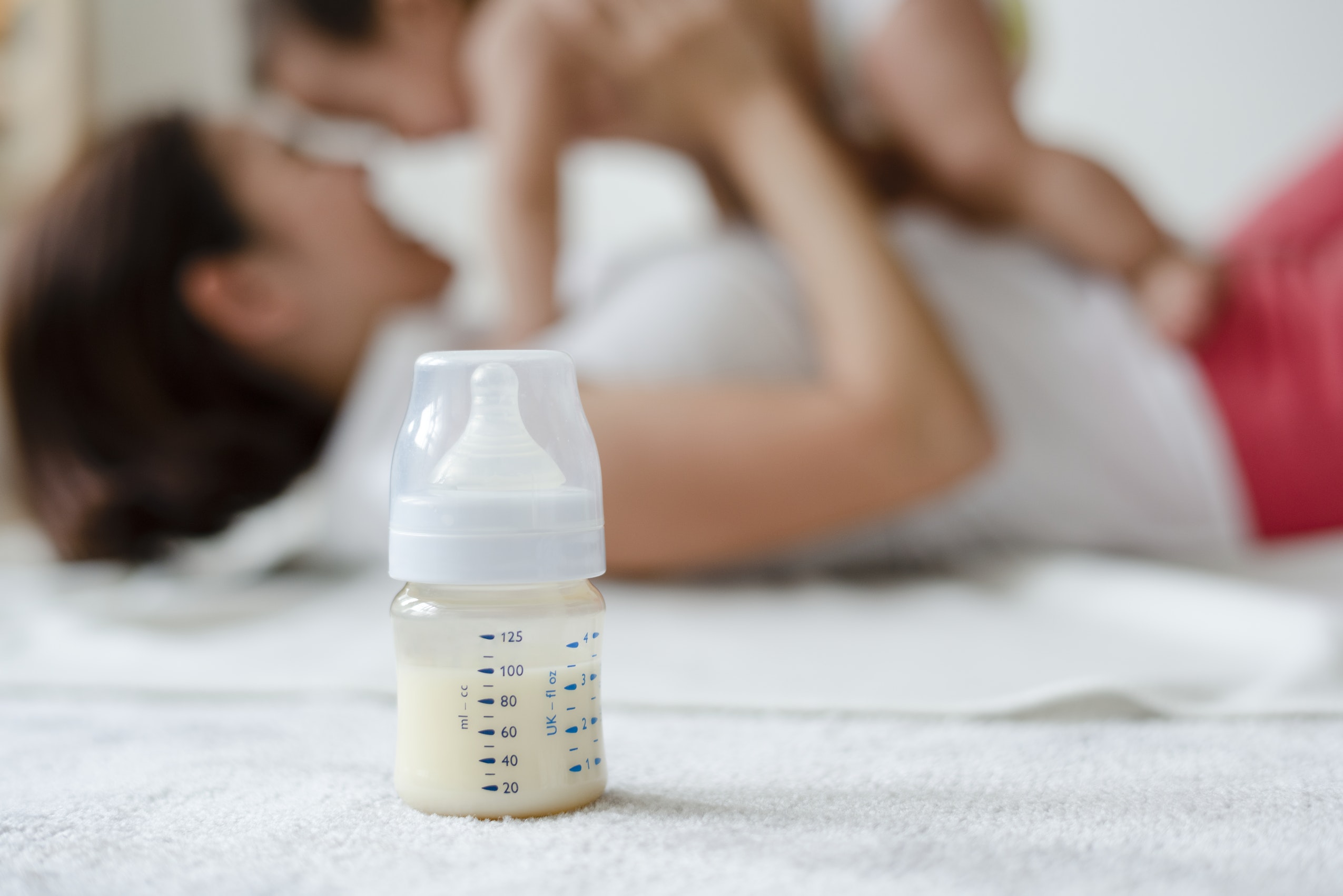 There Is a Better Way to Supplement Breast Milk in the NICU
When your baby is born prematurely, there are thousands of thoughts and worries running through your head. Will everything be OK? How long will we have to stay in the NICU? Among many others, these questions quickly wear on new parents, and the last thing you need to add to your plate is whether breast milk will be enough for your newborn.
In the case of extremely premature babies, a mother's breast milk alone does not provide all of the nutrition these fragile babies need. Preemies require additional energy, protein, and nutrients and oftentimes, doctors will supplement breast milk with what's called a Human Milk Fortifier (HMF) for feedings.
And while the name does suggest it is human milk being provided, most HMFs are made from cow's milk. Cow's milk-based nutrition may be OK for full-term babies, but for every 10% of cow's milk in a preemie's diet, the risk of several severe complications increases, according to a report in Breastfeeding Medicine. Among these complications is necrotizing enterocolitis (NEC), a leading cause of death among preterm babies.
But don't panic! If you find yourself among preemie parents, know there is a better way to supplement breastmilk in the NICU— an HMF made from 100% human donor milk.
Enter Prolacta Bioscience. When their 100% human donor milk HMF is used as part of an exclusive human milk diet (which many parents strive for with their newborns), it is clinically proven to improve the health outcomes of premature babies in the NICU.
You do have a say in your baby's nutrition in the NICU, and your preemie can benefit from a 100% human milk-based diet. Using a 100% human donor milk HMF is one of the best ways to do it.
For more information on 100% human milk nutrition, check out Prolacta Bioscience or watch this family's success with an Exclusive Human Milk Diet.
We recently had the opportunity to talk to Melinda J. Elliott, MD, FAAP, practicing neonatologist with Pedatrix Medical Group of Maryland and Senior Director of Clinical Education and Professional Development for Prolacta Bioscience, about her experience with an exclusive human milk diet and the use of 100% human milk-based fortifier in the NICU.
What is one thing you want all moms of premature babies to know?
Nutrition is extremely important in healthy child development, especially for preterm babies. These infants miss out on crucial nutrition during the last trimester and require more protein, calories and nutrients than breast milk alone can provide. That's why it's important to understand the difference between human milk-based fortifier and cow milk-based fortifier. They are both labeled "Human Milk Fortifier" because it's a product added to human breast milk. However, cow milk-based fortifier can be difficult for premature babies to tolerate, and studies show that one in six preemies who receive cow milk-based fortifier get necrotizing enterocolitis (NEC) (see the studies here and here). Parents can learn more from this infographic.
What is an exclusive human milk diet and why is it important?
An exclusive human milk diet (EHMD) is when 100% percent of the protein, fat and carbohydrates in an infant's intake are derived solely from human milk. Clinical studies show preterm infants on an exclusive human milk diet have better health outcomes with fewer complications, as compared to infants fed cow milk-based nutrition (study here, here and here).
An EHMD during the early postnatal period, a diet devoid of cow milk protein, is associated with lower risks of death, NEC, NEC requiring surgery, and sepsis in extremely premature infants according to a study published in Breastfeeding Medicine.
That is why several parent and preemie organizations are calling for an exclusive human milk diet to be standard of care in the NICU. If you'd like to advocate for your baby's nutrition, this infographic can help you learn more and talk to your baby's care team.
WHAT MAKES PROLACTA'S 100% HUMAN MILK-BASED FORTIFIERS SO REVOLUTIONARY?
When used as part of an exclusive human milk diet, Prolacta's 100% human milk-based fortifiers are clinically proven to improve health outcomes,, for critically ill, extremely premature infants in the NICU weighing between 500-1,250g (1 lb 1 oz to 2 lbs 12 oz) at birth, as compared to cow milk-based fortifier or preterm formula.
NICUs nationwide choose Prolacta's fortifiers because they know they are getting a safe, standardized donor milk product that is processed in a pharmaceutical-grade facility, under the industry's most stringent quality and safety guidelines, to protect their most fragile patients.
---
Traveling with baby? Here's What You Need to Know About Flying with Breast Milk or read up on the Best Natural Deodorants That Actually Work.
---
1. Sullivan S, et al. An Exclusively Human Milk-Based Diet is Associated with a Lower Rate of Necrotizing Enterocolitis than a Diet of Human Milk and Bovine Milk-Based Products. The Journal of Pediatrics. April 2010. 156(4):562-567. doi: 10.1016/j.jpeds.2009.10.040. The randomized study of 207 infants weighing 500-1,250g compared the benefits of an exclusive human milk diet with a diet of both human milk-based and cow milk-based products.
2. Cristofalo EA, et al. Randomized Trial of Exclusive Human Milk versus Preterm Formula Diets in Extremely Premature Infants. The Journal of Pediatrics. December 2013. 163(6):1592-1595.
doi: 10.1016/j.jpeds.2013.07.011. The multicenter randomized controlled study examined 53 extremely premature infants weighing 500-1250g who were fed either a bovine milk-based preterm formula or an exclusive human milk diet, comparing the duration of parenteral nutrition, growth and morbidity.
3. Abrams SA, et al. Greater Mortality and Morbidity in Extremely Preterm Infants Fed a Diet Containing Cow Milk Protein Products. Breastfeeding Medicine. June 2014. 9(6): 281-0285. doi:10.1089/bfm.2014.0024. This cohort study included 260 extremely preterm infants born weighing less than 1,250g who received a diet that ranged from 100% cow milk to 100% human milk.