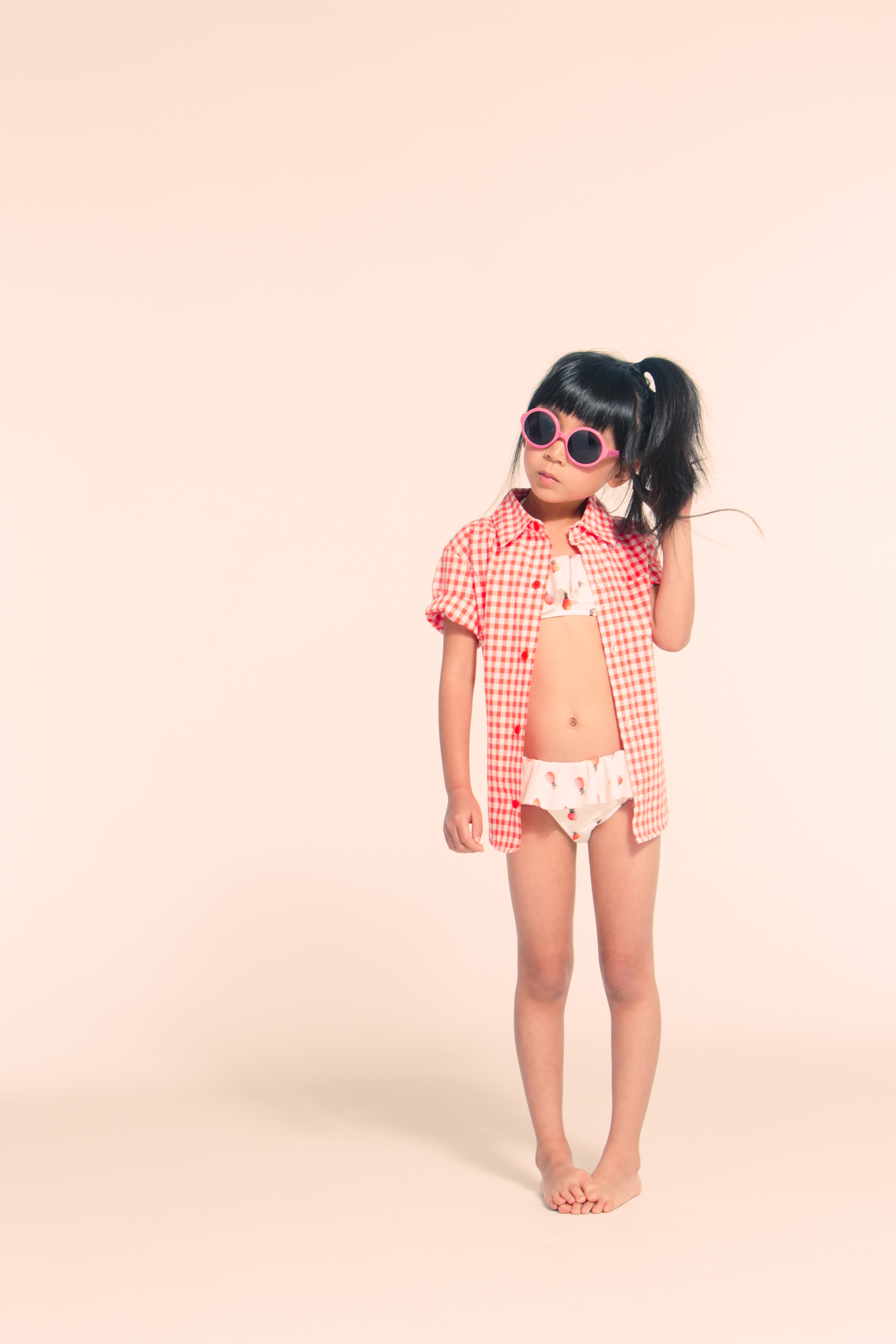 How to Keep Kids Safe at the Beach This Summer
Introducing babies to swimming at a young age is the ideal way to make sure they aren't afraid of water and learn to be safe from the start. We asked the experts at Bambino Mio for their super tips to make sure that your Mini's first experiences in the water are happy, positive and help you both to create great bonds.
Show them water is fun. Swimming is the perfect way to bond with your baby, boost their confidence and strengthen their heart and lungs, so introducing the benefits of swimming early is essential. Use bath time to get babies used to the notion of playing in water. The more they experience the senses of swishing, splashing and waves as fun, rather than scary, the easier a transition to a pool or the sea will be easier for both of you! The movements of the water, noises, colors and splashes will be similar to a pool environment. This will help sensory development and prepare your little one for the new environment when all of their senses will be working at the same time. Start with the bath tub and move your way up to the the baby pool and beyond.
Be prepared. Going to the pool or the beach is a treat, just make sure you have everything you might need in your swim bag:
– Hooded towel or beach towel
– Diaper bag and change mat
– Pool toys and flotation devices
– Sunscreen and sunglasses
– Hat
– Snacks and water
– Reusable swim diapers. Look for adjustable waistbands, a water resistant layer and leak-proof elasticized legs, to ensure that there are no accidents in the pool! The ideal swim diaper is lightweight, compact, and will not weigh your baby down in the pool (unlike disposable diapers!) or restrict any movement for your little swimmer.
Use adequate sunscreen and reapply. Baby's skin is very sensitive, so it's vital to remember to use a good quality, water resistant sunscreen. Apply to baby's exposed skin at least thirty minutes before going out in the sun and don't forget to re-apply regularly throughout the day, or after swimming. Even water resistant formulas come off eventually. Add a hat and sunglasses and baby will be well protected from the harmful effects of UVA/UVB rays.
Make sure baby doesn't get cold. It might seem counterintuitive to worry about baby cooling off in the summer sun, but water, whether at the pool or at the beach, can be much colder than the outside air temperature. An ideal water temperature is 89 degrees Fahrenheit, but anything less and you'll find that it doesn't take baby long to lose heat and start to shiver a little. Keep your pool or water sessions short to start with—10 or 15 minutes at most—before popping them out and drying them off with a hooded towel, so they stay cozy. Having more than one swim diaper ensures that you can stay at the beach all day and keep baby warm and dry. Using a reusable swim diaper also allows you to pack less and do your bit for the environment, rather than throwing out all those disposables!
If your little one has been sick with cold or flu like symptoms or an upset tummy, skip the swimming plans until they are symptom free for at least 48 hours. And if your baby has sensitive skin, find out about chlorine levels in the pool, as these can irritate. Your pediatrician can advise on the best ways to protect your baby's skin.
Know the rules. Check with your local pool in regards to their policies before packing up and heading over. How many children per adult do they allow? What do they constitute as an acceptable floatation device and how deep into the pool can you go with your children? Most pools are clear about their rules and policies, in writing, so familiarize yourself to avoid disappointment!
---
Bambino Mio is the leading cloth diaper company offering a range of products designed for the stylish, modern, and eco-conscious parent. The company was founded by husband and wife team Guy and Jo Schanschieff in the UK in 1997. Over the past 20 years, they have won numerous awards and are now available in 70 countries worldwide. In addition to their quality cloth diapers, Bambino Mio also offer a range of diapering accessories, swim diapers and potty training essentials.
Opening Image: Ainsley / Carlisle