How to Curate a Gallery Wall like an Artist
Whether you're designing a kids room, finally framing family photos, or need to bring a certain area of your home to life, gallery walls can be the answer to pique interest and provide a pop of personality. You could even Create your own canvas print by using personalized services like yourphotocanvas and similar others. But it's true- unique and inspiring gallery wall ideas can be hard to come by when it seems like the design trend has been done time and time again.
That's why we enlisted the help of Southern artist Teil Duncan Henley, to offer her insights into the do's and don'ts of curating the perfect gallery wall. "Gallery walls are becoming more and more popular these days," Duncan tells Mini. "Naturally, as an artist, I have collected a ton of art over the years- both my own and [from] other inspiring artists. This has allowed me the opportunity to set up many gallery walls within my home and workspace"

When curating a gallery wall like an artist, there are a few tips to keep in mind that will help your wall feel both cohesive and organized. Remember, a gallery wall does not need to feature only artwork or only family photos, but you should limit the number of these gallery moments in each room. If you are similar to the art collections of Charles Saatchi and similar gallerists, you might know how professionals display art. Some people actually like to place pictures around something else, like a neon sign. This draws attention to the wall and lights it up. Before now, people have created a neon sign saying "home" or "family" at www.neonfilter.com and then organized their pictures around that. That looks nice, but people could always look for other ways to organize the layout too.
"I think this is a positive direction in home decor because it frees one up from feeling that they must find a piece of artwork that matches directly with their furniture and fabric color scheme," Duncan continues.
KEEP SCROLLING TO LEARN HOW TO CURATE A GALLERY WALL LIKE AN ARTIST.
Choose a Theme
Whether it's a color scheme, a subject, or frame style (or all of the above), a theme allows for some cohesion and intentionality, and is a good way to avoid a visual overload. If you know you're going for vintage, for example, you could look at some vintage posters online to get some inspiration for the sort of images you could choose.
Choose One Format
Choose from a scattered or grid format when curating your gallery wall. If scattered, it's always helpful to play with the layout on the ground first. I usually lay all of the work out until I am happy with the composition.
Take all of your largest pieces first and place them evenly on the left side and right side of the wall, but not at the same level. Work your medium size pieces in next, and use the smallest artwork as fillers. The only way to really go wrong here is by forcing some sort of grid.
If you are wanting a grid format, I would stress the importance of each piece being the same size and framed the same way.
Limit to One Room
When deciding on a gallery wall, you may find that the majority of your artwork is a smaller scale, and therefore you could have multiple gallery walls in your home, and that's great! My only tip here is to limit a room to one gallery wall.
If you want to use artwork to the adjacent wall to your gallery wall , consider one large statement piece, a diptych,or a mirror. This is a nice way to balance the playfulness with a bit of uniformity and stability. Too many painting groupings in one room may read as cluttered (and not to mention, [they can] be a potential disaster if someone slams the door!).
Love Duncan's gallery wall Ideas? Continue scrolling for a look at this Southern artist's work.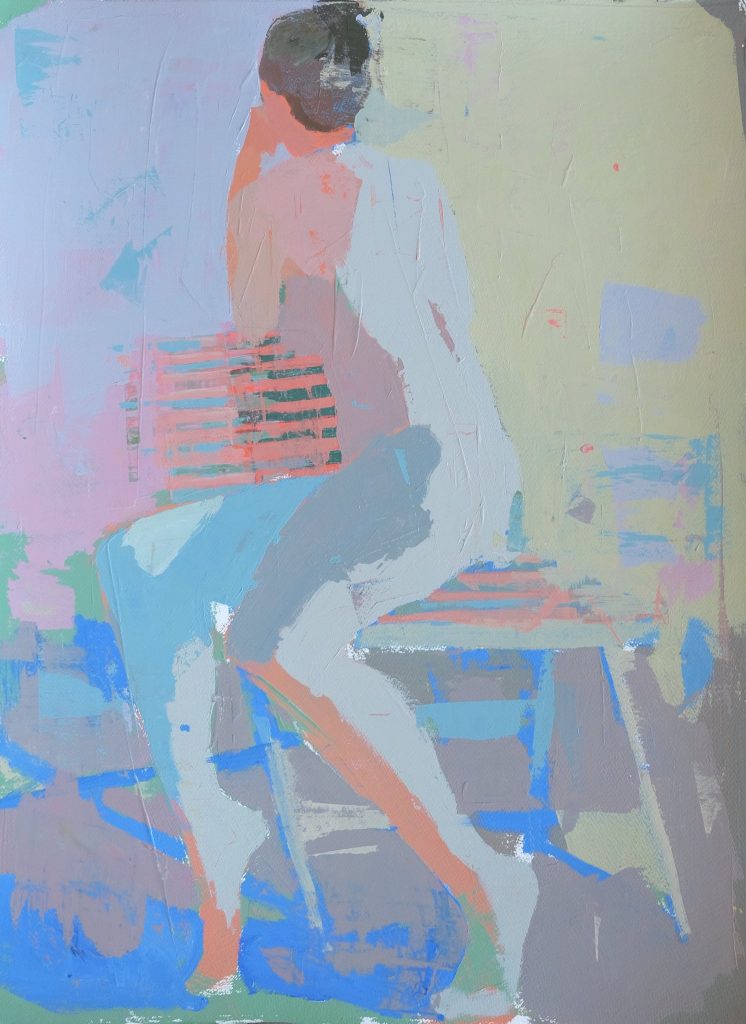 Teil Duncan is a mother of two and full-time painter based in Charleston, SC.
SHOP THESE GALLERY WALL FRAMES
---
You may also want to browse these Baby Play Mats That Look Like a Rug or shop these 20 Beautiful Baby Mobiles to Add to Your Nursery.
All images courtesy of Teil Duncan.