10 Things You Need to Take on a Family Adventure
We have now reached the middle of the summer and if you haven't packed up already, you likely have at least one family trip on the docket before the end of the season. Maybe you're headed to the mountains for a scenic outdoor hike, and are reading blogs like Rilor Wilderness in preparation for this, maybe you're hitting the beach for some fun in the sun, or maybe you're setting out to explore a new city.
As parents, we have to be ready for whatever comes our way and regardless of your destination, we all know there is a whole host of essentials you'll need to make your summer family trip as seamless as possible.
For instance, if you plan to hit the beach with the littles, do you have a play tent to keep them protected from those harsh rays? Have you checked out some canopy tent reviews to find the best one for not only your baby but the whole family? Do you have a mosquito net to keep baby away from bugs while camping in the Great Outdoors? If you have a really little one, maybe you're thinking you need to make baby changes easier with a good mat? Especially on those long journeys.

No need to stress about what to pack for your upcoming travels, this list of 10 Things to Take on a Family Adventure will have you covered thanks to bblà v.
Arenà Pop Up Beach Pool
No worrying about your baby in the lake or ocean with this beach pool! Just dig a hole in the sand and you can place this pop-up pool next to you- allowing baby to cool down and splash away next to you while you enjoy the view! This guy comes with a collapsible bucket and easy carry bag! $29.99
NÃ  j Neoprene Swim Vest
If your littles are just learning to swim or you plan to teach them this summer, this swim vest is a must-have! Security, comfort, and warmth, as well as UPF 50+ sun protection and 8 removable floats to gradually reduce float-ability, you know your Mini will be safe and sound in the water. $34.99
Wraà p Neoprene Wet Suit
When you need a little more coverage in the water, spring for this neoprene wet suit to keep your Minis warm, protected from the sun, and free to move as they please! $24.99

Shà oz Neoprene Water Shoes
Summer often means a trip to the lake or beach, and of course the pool, so make sure you keep baby's feet protected from hot sand, shells, sharp rocks, wood splinters, and rough surfaces around the pool! $14.99

Nidà Mini 2-in-1 Travel and Play Tent
Tote to the beach, the park, or even the playroom this summer! This travel and play tent has an anti-UV coating of SPF 50+ to protect baby's skin, plus a canopy and retractable mesh to keep mosquitoes away! Ideal for travel, this pop-up tent will fold and unfold easily and quickly, not to mention it's comfortable enough for baby nap in open air or indoors! $69.99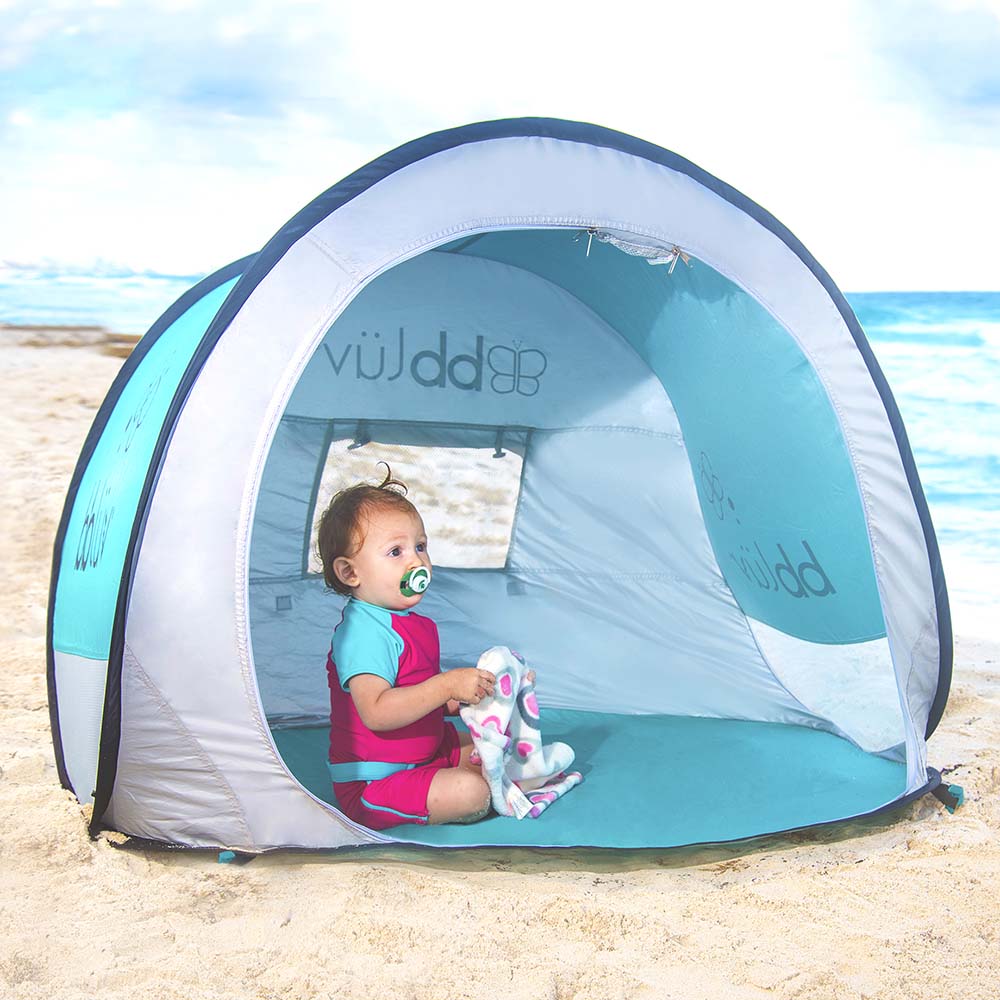 Sunkità Anti-UV Pop-Up Play Tent with Mosquito Net
Protect your Minis from the sun, sand, wind, and mosquitoes with this summer perfect play tent! Comes complete with a carry bag, rear window, and smart pocket to tuck in the mosquito mesh when not in use. Perfect for the breastfeeding mom or for kids of any age who want to take a break from the sun. $49.99
DÃ  se Multipurpose Stackable Containers
No trip with kids in tow is ever a success without snacks! We love these stackable containers for taking a variety of goodies on the go! Suitable to carry baby powder as well. $9.99
Foà d Thermal Food Container with Spoon
Keep meals warm on-the-go. This 3-in-1 thermos allows your child to eat anywhere thanks to its bowl and spoon combo. Easy to carry, compact, and practical. $16.99
Solar Sunglasses
It's summer after all, so break out the shades! These offer optimal protection against UV rays with an ultra-resistant and flexible frame. $19.99
MÃ  lti Reversible Play Mat
This durable play mat promotes learning and motor skills development, plus it's rollable for easy storage in the car or in the playroom! Toss this one in the car for your family road trips this summer and pull it out for entertaining baby anywhere! $79.99
You can shop more bblà v essentials at bbluvgroup.com.
---
You'll also want to read our list of 10 Parenting Books Every Family Should Own and browse these Kids Rooms That Will Make You Insanely Jealous.