Modern Parenthood: 5 CEO Moms Get Real About "Doing It All"
There's a huge amount of pressure on moms to 'do it all' these days. More than simply "mothers" or "professionals" or "partners", women are feeling the need to do everything in an era that's yelling, 'You've got this,' while also seamlessly maintaining their own identity and sense of self.
But as it turns out, it's easier said than done. The reality of balancing a growing career alongside a growing family can be both stressful and isolating.
While new and prospective parents are well-informed on the sleepless nights, overwhelming love, and the bleary-eyed euphoria of having a new baby, no one talks very much about the challenging reality of doing this with a demanding career. Thankfully, this generation is ready to have more honest conversations.
It's important that new working moms strategize for their unique situations and build cast-iron support networks to make space for themselves— something we pride ourselves on sharing here at Mini (telling the stories of working moms, how they cope, their struggles, their triumphs, their surprises) and something that was an integral part of a spirited discussion on "Modern Parenthood: Getting 50/50" hosted by newly launched baby formula company, Bobbie Baby, at The Wing, San Francisco.
Moderated by Bobbie's CEO and Co-Founder Laura Modi, the event brought together Katerina Schneider, the Founder and CEO at Ritual, Afton Vechery, the CEO and Co-Founder at Modern Fertility, Jess Lee, the CEO and Co-Founder of Modern Citizen, and Suzanne Price, Founder and CEO of Sprout to discuss the common challenges they all face, perceived weaknesses, and frustrations, some of which are unique to growing a business alongside a family, and everything in between.
The discussion kicked off with a few shocking statistics that paint a clear picture of modern motherhood: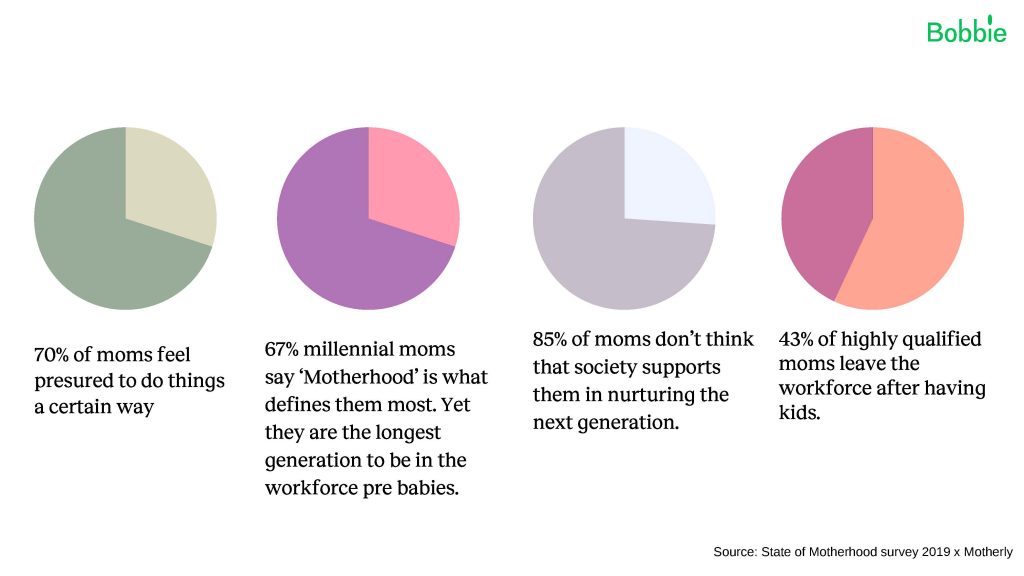 KEEP SCROLLING FOR insights from these inspiring women into their personal approaches to fertility, pregnancy, motherhood, and business leadership.
Self-care is different for everyone. Define what it means for you

. "My mental health is a lot better when I'm working and focusing on that. It's taken me sometime to realize at this phase of my life it's ok to get enjoyment from something like that," –

Afton Vechery, CEO of Modern Fertility.

Prune the garden. "Therapy is something that totally changed my life, I'm much more self-aware. It made me reconsider certain friendships and realize once I had a baby I had different priorities about where I wanted to spend my time. I needed to prune the garden," –Jess Lee,

CEO of Modern Citizen.

Ignore the patriarchy – you don't need to choose between having a family or a career.

"I don't think anything prepares you for having a kid, that being said I would never have started the company I've started if I hadn't gone through what I've gone through. It's possible and it's doable. We're showing you can do anything," –

Katerina Schneider, Founder of Ritual.

You don't need to overcompensate.

"Mom guilt is real. A lot of parents try to overcompensate for working hard when they are home but it's good for kids to have time on their own. Of course your kids want you to play with them, but if you can't they figure it out. It's amazing what they can do when left to their own devices," –

Suzanne Price, Founder of Sprout.

Set clear expectations, then set them again.

"Have check-ins with your partner or support system during a dedicated time to discuss the split of parenting and work responsibilities – this avoids any 'I thought you were doing that' arguments – we treat it like a business meeting," –

Laura Modi, CEO of Bobbie Baby.
---
Now stick around and browse the new HATCH Collection x J.Crew Collab or try these At-Home Workouts to Do with Your Stroller.