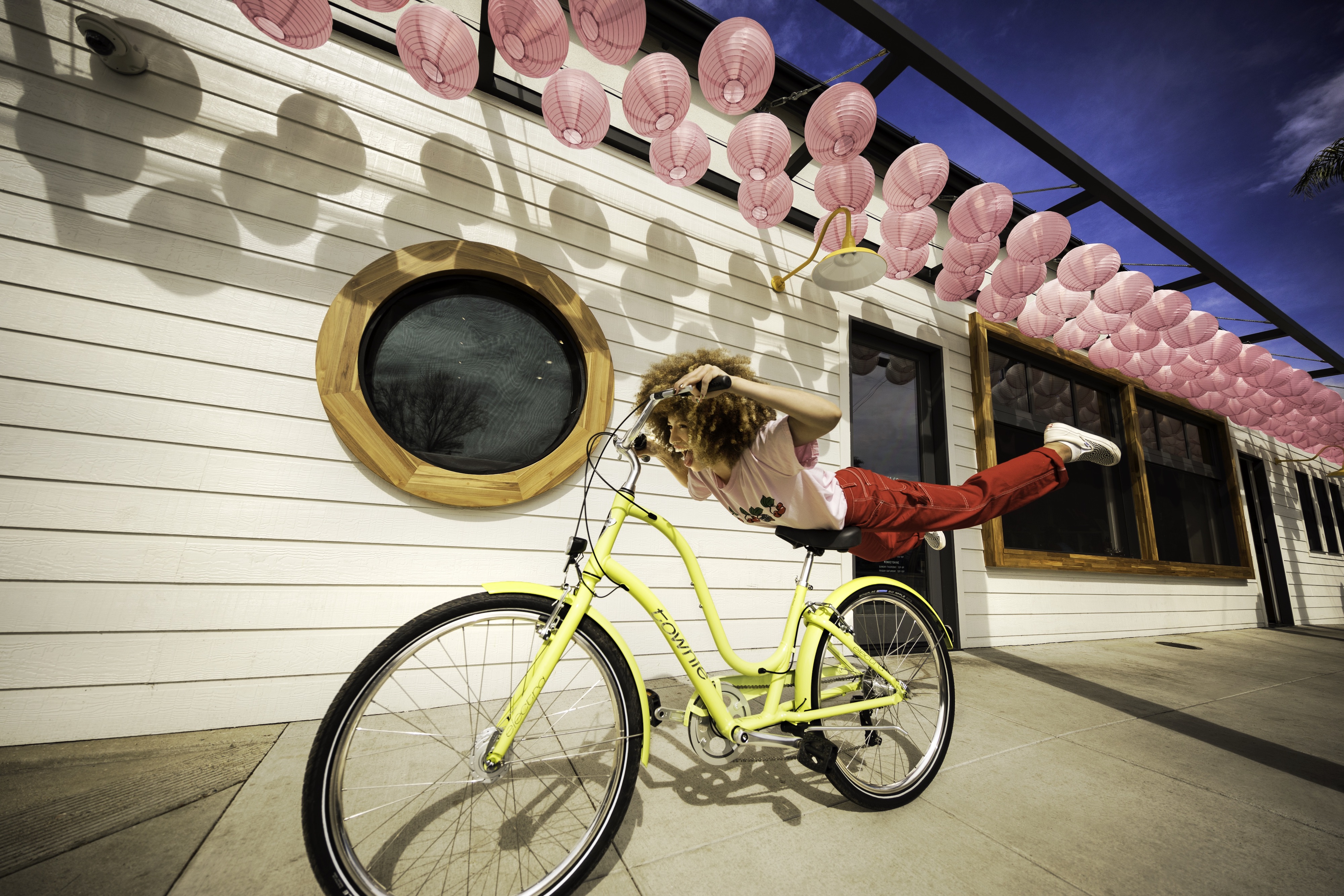 The Best Bikes to Take on Your Family Bike Ride
September is here and depending on where you live, you may be winding down and prepping for back-to-school with the kids, or you are still in vacation mode, with more family trips on the calendar. Whichever one it is, you want to still have those last pieces of fun with the family, and this includes – electric bikes. If this sounds like something you have been looking for, you will need to shop around a bit, checking out website stock such as Glow Worm Electric Bikes, as well as the ones below, to make sure you find the best for everyone!
Either way, one way to get more bonding time with your kids while keeping everyone active is to work a family bike ride into the mix! So whether you're taking your ebike(s) on the family's next weekend getaway, cruising around the neighborhood with your littles in tow, or even biking to school; we've rounded up some of the best bikes for the entire family from Electra Bicycle Company.
"At Electra, we make bikes that make people smile. Whether it's the perfect color, the comfort and control of our patented Flat Foot Technology frame geometry, or the fun of a pedal-assist system on America's favorite bike, we put quality and design first when it comes to all our products," says Kevin Cox, president at Electra Bicycle Company.
Keep scrolling to browse the Best Bikes to Take on Your Family Bike Ride.
For the Kids
Electra Sprocket 1 16″ or 20″ Kids Bikes
Remember riding to your friend's house or the store? Or just taking off for nowhere in particular? It was simple and fun. Electra wants your kids to feel that too with their line of Sprocket bikes. Designed with style and fun in mind, Electra uses their patented Flat Foot Technology , a proprietary frame geometry, to ensure proper leg extension and no tippy-toe stops so kids can focus on the enjoyment of the ride. Plus, parents want a bike that kids won't outgrow with one major growth spurt and this unique riding position offers the adjustability to accommodate burgeoning boys and girls.
The lightweight, aluminum frame comes in one unisex design with lots of color options and awesome features to get them riding safely and in style. From adjustable brake levers for little hands, to easy-to-remove training wheels to puncture-resistant tires, these pint-sized rides have the same level of quality found in Electra's adult-sized bikes
Sprockets kids' bikes come in both 16″ (with removable training wheels) and 20″ models.
For the Grown-Ups
Townie 7D
Admittingly, many parents haven't been on a bike since they were kids so when it's time to go riding with your youngsters, choose a bike that is both comfortable and cool. As one of America's best-selling bikes, the Townie 7D introduced Electra's patented Flat Foot Technology to the world. With an upright seating position that lets you see the world better and allows you to plant your feet flat on the ground while seated, Townie is seriously comfortable and gives you more control so riding a bike will be as easy as well… riding a bike!
Parents can choose from an Original or EQ (equipped) model, which comes complete with bright LED lights and painted fenders. Seven speeds means plenty of gears to take you where you want to go on any family outing. They can also easily attach a bike cargo trailer for picnic supplies or for a child who is not quite old enough to ride a bike of their own, making it perfect for a family day out. The Townie 7D also features puncture-resistant tires, as well as powerful front and rear linear-pull brakes.
Once you've decided on which Townie color is right for you, check out Electra accessories for more ways to customize your ride and make it your own. From ringer bells to matching baskets and helmets, there is always a way to ride in style.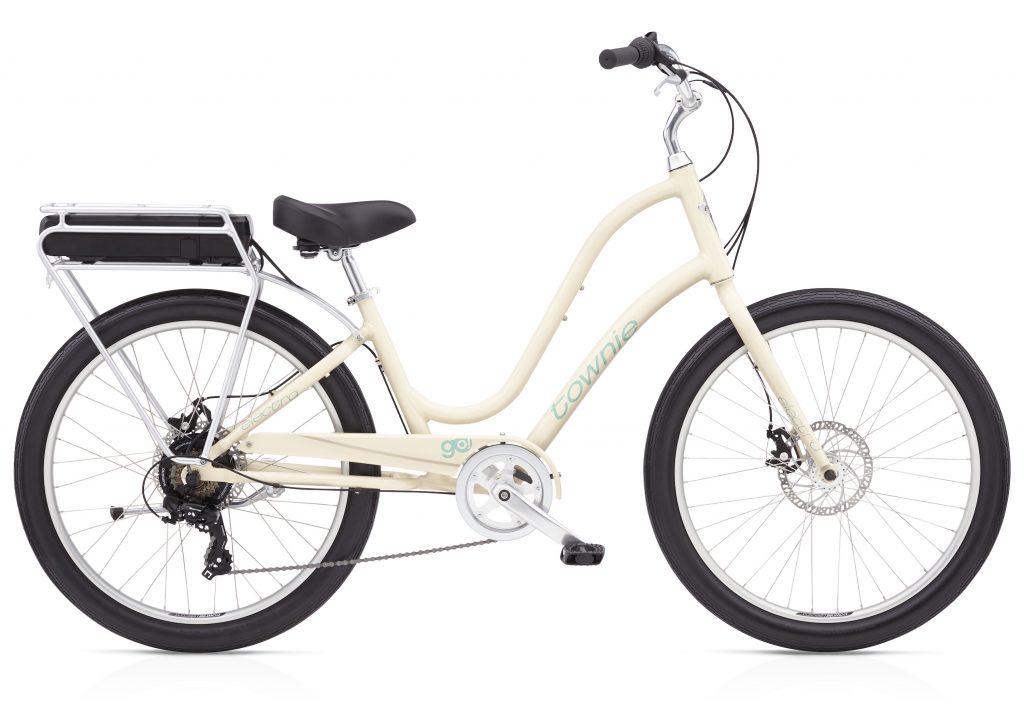 Townie Go! 7D
As electric bikes become more popular, parents may be curious about what the power of a motor can do for them. Whether it allows the family to ride longer or give mom or dad the ability to use their car less, those interested in trying this technology are celebrating because Electra now offers their Townie 7D model in a pedal-assist version.
Meet the Townie Go! 7D – one of the few e-bikes available under $1,500, which makes it an exciting option at an attainable price point for those thinking about joining the world of electric bikes.
"The new Townie Go! 7D is truly for everyone. It offers everything you could ever want in an e-bike at the exceptional price of $1,499.99," says Cox.
This economical option serves as the brand's introductory e-bike while still staying true to Electra's high-quality standards yet relaxed California vibe. And those hesitant to hop on two wheels powered by a motor need not worry, as the Townie Go! 7D's pedal assist system provides power only when you are pedaling, giving the feeling of having the wind at your back without being unsteady.
With great features including a Velo Custom Saddle, 7-speed derailleur, twist shifter, and new handlebars with custom ergo lock-on grips, the Townie Go! 7D exceeds the expectations of a high-quality e-bike priced within a few hundred dollars of a pedal bike. The new e-bike is powered by a 250W Hydrive rear hub motor, rack mounted battery, and LED display.
Want a unique look for your bike? The Townie Go! 7D offers on-trend frame colors with the step-thru styles offered in shades like Cream, Mint Mojito, Zinfandel, Icy Blue, and Storm Cloud. The sleek step-over is offered in Olive and Matte Black.
Wherever your family travels take you this year, we're certain one of these top-of-the-line models from Electra Bikes will fit the bill!
Visit www.electrabike.com to learn more.
---
Now read What 5 CEO Moms Say About Having It All or browse the new HATCH Collection x J.Crew Collab That's Changing the Maternity Game.