Before and After: Our Editor Made Over Her Tiny Bathroom
We all have those spaces in our homes that are a little less than ideal, especially if you live in an older house like our Editor in Chief, Kate Kirby. There may even be appliances that look and work like they're on their last legs, although you don't have to live in an older house to experience that. It can happen at any time, which is why it may be worthwhile to have a look at these home warranty plans, from somewhere like First American Home Warranty (https://homewarranty.firstam.com/homeowner/home-warranty/pennsylvania) to see how you can protect both your appliances and your finances should you ever find yourself in this situation. If you live in an old house especially, this could be very important. Built in the mid-1950's, Kirby's home was overall a blank canvas when she and husband Michael moved in five years ago.
"The previous homeowner made small changes before we moved in," Kirby says. "White paint, baseboards, new-yet-ill-installed windows, but there were two rooms in particular that I really wanted to tackle- the second bedroom and the bathroom."
"The room that started out as my office-now my daughter's room-was horrendous when we bought the place. It had these terrible blue walls, plywood trim, and a very conspicuous attic door in the ceiling," she continues. "We tore it down to the studs, added picture molding to the walls, chunkier baseboards, and painted everything my favorite shade of white, Tibetan Jasmine by Ralph Lauren. It's now one of my favorite rooms in the house and, safe to say, we're not planning on moving anytime soon. Our friends in CA told us about these San Jose buyers that are looking for homes to buy, so we might use a similar service in the future but, for now, we're staying put."
"Next up was the bathroom. I knew the putty green paint had to go, as well as the large scale grey-brown ceramic tile that the homeowner also placed in our mudroom. There were also more towel bars and hooks than any person could possibly need and in the oddest places. Luckily, the shower and other fixtures seemed to be okay, otherwise, we would need to call a professional company, like Morris Jenkins, to fix these."
"The space already had white subway tile in the shower, so we opted to keep it, and instead of tearing out the walls like we had everywhere else in the house, we painted the room a fresh coat of Tibetan Jasmine."
"White paint really does wonders for brightening up such a small bathroom and since we were staying neutral on the walls, I knew we had to find the perfect, stand-out tile," Kirby says. "I could not get the Waterways tile from StoneImpressions out of my head. It is the most beautiful, serene shade of blue and the pattern is sophisticated, yet modern."
"We went with the Blue/Arctic White color way and even though I'm notorious for keeping everything crisp and white, this blue tile was the easiest transition into adding color to this small space," she continues. "The tile is the focal point of the space."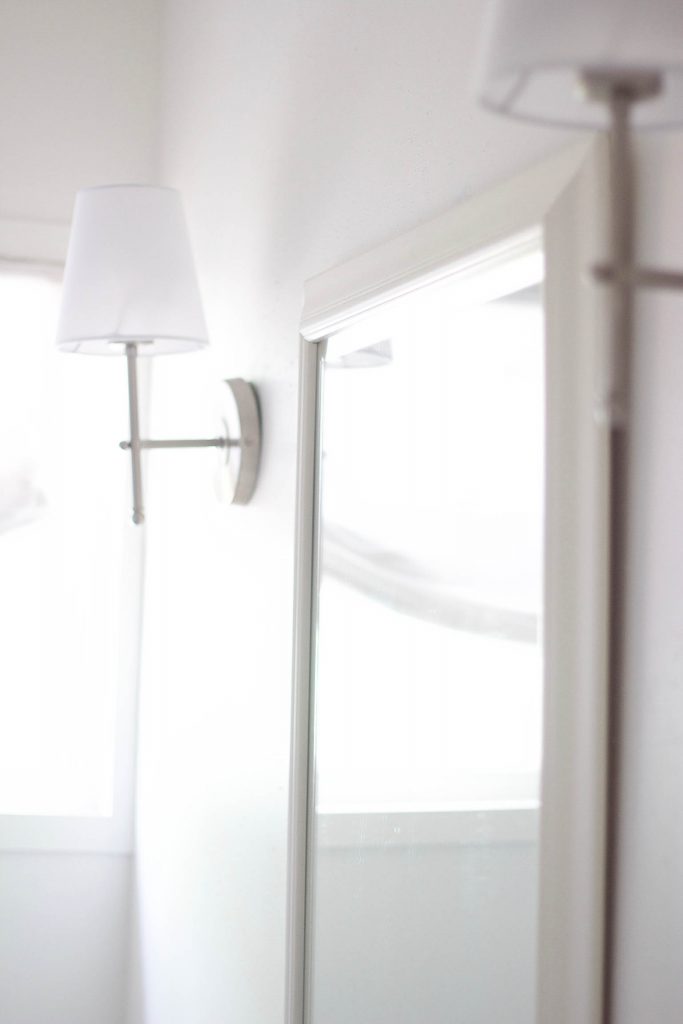 "Since the space now feels fresh and clean with its blue and white color scheme, the old fixtures had to go. We replaced the wide sink console with a classic, tailored pedestal sink, added a chrome faucet with vintage knobs and, rather than calling someone like these Electricians in Atlanta in to fit completely new lighting, we decided (for now, at least) to swap the outdated light fixtures for linen shade sconces. We also replaced the blinds with a linen roman shade and the bifold closet door with a 6-panel style."
"The last piece of the puzzle was this antique Chinese stool that adds such a nice wood tone to the room and really warms up any feeling of starkness that can come from painting everything white."
---
CREDITS
Waterways Tile: StoneImpressions
Antique Stool: OldWoodenStool
Sink: Wayfair
Faucet: Amazon
Sconces: Amazon
---
You'll also want to read How to Curate a Gallery Wall Like an Artist and 50 Twin Baby Names to Add to Your List.